MP: Faculty of 13 medical colleges submit Enmasse Resignations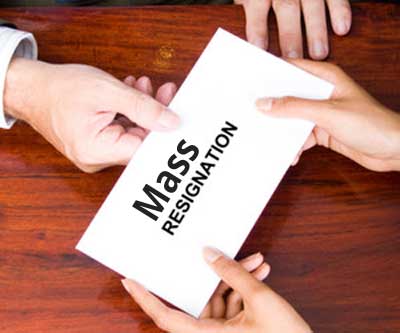 Madhya Pradesh
: With their demands being continually neglected by the state government, medical faculty of Madhya Pradesh based medical colleges are slowly submitting their en-masse resignations to the deans of their respective medical colleges.
The issue of medical teachers under Madhya Pradesh Medical Teacher Association (MPMTA) has been persisting for a long time with the government repeatedly promising that their demands. Major demands of the teachers surrounded time-bound promotions as well implementation of the 7th pay commission from 2016. Some of the other demands made by the doctors included up-gradation of promotion policy and 3 tier promotion system.
According to the faculty, in other states and as per MCI, the first promotion of faculty is done in 4-5 years but in MP it is after 12 years and there are minimum 3 promotions for the teachers if they spent 30 years in the field but in the state, it stops after 2 promotions.
Earlier in September 2019, the doctors had threatened the government with mass resignations and had only backed down after the chief minister's representative promised them that the government will fulfil their demands.
With 4 months past and the promises still not being fulfilled, the agitated doctors have now gone ahead and submitted their resignations post dated 9th January 2020 citing, "The Central Body of the association has been putting its untiring efforts for formulation of departmental timescale promotion and up-gradation policy for medical teachers, grant of actual benefit of 7th Payscale from January 1, 2016, and resolution of other departmental discrepancy pending since last so many years."
There is a total of 3300 medical teachers and 13 medical colleges associated with MPMTA all wanting the government to upgrade this policy. Junior doctors across the medical college have shown support to them in the move.
Speaking to Medical Dialogues, Dr Poonam Mathur, president of MPMTA stated, "We are trying to change the policies since BJP government but there is no response from them. We have given the notice of resignation to the higher authorities as there is no other choice left for us. We have given one month notice of date 9 January 2020. 95% of the medical teachers have already given the resignation and the remaining 5% are on leave but they have informed the authorities over the phone."
She also informed that Tulsi Silawat, the cabinet minister, Indore has promised them that he will arrange a meeting with the Chief Minister. They don't have any option left with them as their demands are pending for many years.
She also said that the medical teachers have a dual role to play in the medical field that is teaching as well as patient care. Despite all that, they are being paid less.
Read also: Madhya Pradesh: 1,200 junior doctors Submit Mass Resignation, FORDA comes out in support