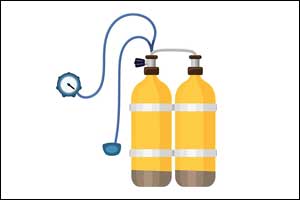 "The sparks from the defibrillator might have caused the blast. A post-mortem examination will also reveal if the death was caused in the blast or the patient could not be revived."– Forensic expert Preeti Gaikwad 
Ujjain: While doctors were using a defibrillator to revive a patient on a ventilator at D Gardi Medical College hospital, an oxygen cylinder next to the machine burst causing the ventilated patient to suffer severe burns on his neck and face. With the family of the patient blaming the hospital for the death of the patient, a post-mortem is being conducted to determine the actual cause of patient's death
The patient was admitted to the hospital with complaints of diarrhoea. He was soon shifted to the ICU after his condition deteriorated and was put on the ventilator.
When his pulse went out, the medical staff started to revive the patient using a defibrillator. The oxygen cylinder was attached to him, while the defibrillator was being used. During the procedure, the cylinder burst causing a fire on the mask worn by the patient which led to severe burns on his body. The patient died soon after
Lamenting his death, the relatives of the patient accused the hospital's administration of negligence and lodged a complaint with the Chimanaganj police station.
Senior inspector Rajendra Ingale, Chimanganj police said, "His face, throat and upper part of the chest have been badly burned by fire." The police have recorded the death and sent the body for autopsy to Indore.
Forensic expert Preeti Gaikwad claimed while informing the TOI about the incident, "The sparks from the defibrillator might have caused the blast. A post-mortem examination will also reveal if the death was caused in the blast or the patient could not be revived."
Panic was struck among the hospital staff but injuries have been reported so far.
1 comment(s) on MP: Oxygen Cylinder Blast allegedly kills Ventilated Patient, Complaint against Hospital