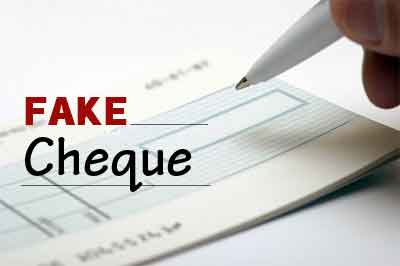 Mumbai: A Mumbai Hospital has found itself bereft of Rs 30 lakh after a unknown criminal(s) robbed it of the said money using fake cheques.
Mid-day reports that Rs 30.91 lakh has been moved out of the Rajiv Gandhi Jeevandayee Arogya Yojana (RGJAY) account of Gokuldas Tejpal (GT) Hospital using a series of fake cheques by someone who forged the signatures of the medical superintendent of the hospital. It is added that original cheques are still in possession of the hospital.
An FIR has been filed by the former MS of the hospital, Dr Dattatray Kulkarni, who reported that the fraud occurred in relation to the RGJAY account of the hospital, whose chequebook was in his possession as the MS is the only one authorized to make the withdrawal.
................................ Advertisement ................................
"For any kind of cash transaction, we use cheques. Our old chequebook got over and we applied for a new one on June 18, 2016. Within 15 days, we got new chequebook through post. The book had 50 cheques out of which we had used only 14 as of now," Dr Mukund Tayade, the current medical superintendent of Gokuldas Tejpal Hospital told mid-day.
................................ Advertisement ................................
He added, "Our previous medical superintendent Dattatray Kulkarni asked our clerk to take the monthly statement from the bank as we do at the end of every month. On September 3, our clerk visited the bank and got to know that Rs 30,92,962 had been taken from our account and deposited in an unknown account through three cheques."
It was later revealed that the number on the cheques used to withdraw the said cash matched the number on the unused cheques still lying with the hospital. Police also informed that many cases have been reported in the area with conmen making fake cheques with real numbers and using them to make withdrawals from accounts.
An FIR has  been lodged against unknown person(s) under sections 420, 465, 467, 468 and 471 of the Indian Penal Code.
"After getting the complaint, we asked the bank to give details and found that by using these fake cheques, R7,50,000 was transferred on August 24 and R9,63,400 on August 29 to the account of Sudip Ajaykar in the Dena Bank's Ichalkaranji branch. Another cheque was issued on August 29 wherein R13,78,560 were transferred to the account of Swastik Electronics in the Bank of India's Vita branch," a police officer revealed
Meghna A Singhania is the founder and Editor-in-Chief at Medical Dialogues. An Economics graduate from Delhi University and a post graduate from London School of Economics and Political Science, her key research interest lies in health economics, and policy making in health and medical sector in the country.
She can be contacted at meghna@medicaldialogues.in.
Contact no. 011-43720751
0 comment(s) on Mumbai: Hospital cheated off Rs 30 lakhs with fake cheques