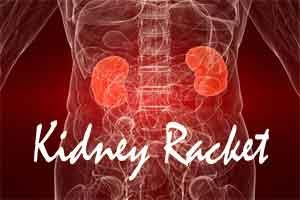 A patient suffering from renal failure was in for a rude shock after four people allegedly duped him of Rs 5 lakh-on the false promise of finding a kidney donor for him.
The matter has been registered with the Thane Crime Branch, and reportedly they have already made two arrests. The accused identified as Mohammad Daud (27) and Neha Mehra (33) from Delhi. There are two more accused absconding in the case.
The patient and the victim, Krishna Bhaskar Nimsakhare (65), in this case had registered an FIR with the Badlapur police station in December last year.
As reported by Asianage , Mr Nimsakhare's son, while hunting for a matching kidney donor for his father, came into contact with three accused from Delhi. He got details of the accused from the website "I need kidney" and called them in Delhi in order to meet the donor.
Ms Mehra and two others, Khaif Khan and Karishma, posed as employees of Max Hospital and told Mr Nimsakhare's son that they could help him find a kidney donor for his father for Rs 20 lakh, out of which, they needed Rs 5 lakh in advance.
Crime Branch DCP, Parag Manere, said, "The accused conducted a meeting with a person who pretended to be the donor. They narrated some fake story related to their kidney donating plan too.
Mr Nimsakhare's son. Mr Nimsakhare had to undergo a check-up in Max Hospital and was told that the donor's kidney matched his. The accused later took Rs 5 lakh from the father-son duo and promised to call them back for the operation which they did not."
"After we registered a case against the trio under Sections 420, and 406, 34 of the IPC, we put together a team to find the accused and within two months, arrested them from Delhi. A hunt has been launched for the remaining accused. We are investigating whether the gang has cheated other persons as well," he added.
0 comment(s) on Mumbai: kidney patient duped of Rs 5 lakh