Mumbai: Senior Doctor arrested for molesting 14 year old girl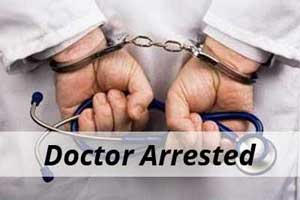 A case was registered under relevant sections of the Protection of Children from Sexual Offences (POCSO) Act and the IPC and the doctor was arrested Friday night (April 19, 2019)
Mumbai: A senior doctor has been arrested under the sections of the Protection of Children from Sexual Offences (POCSO) Act and the Indian Penal Code (IPC) by the local police on account of allegedly molesting a 14-year old girl at his residence in Mumbai.
PTI reports that the 63-year old doctor was at his residence in suburban Khar when the minor came to collect keys of her house.
A police official informed PTI that the victim's mother had left her house keys with the accused and had asked her 14-year-old daughter to collect it from there.
"According to the victim's mother, the doctor hugged and kissed the victim when she went to collect the keys. She has told police that the incident happened on April 14," the police official informed.
A case was registered under relevant sections of the Protection of Children from Sexual Offences (POCSO) Act and the IPC and the doctor was arrested Friday night (April 19, 2019), he added.
The doctor was produced in court on the next day and was remanded in judicial custody, the accused doctor's lawyer informed the Agency
He told the court that the complaint against the doctor was filed at the instigation of the latter's housing society members.
Medical Dialogues had earlier reported that 29-year-old doctor posted at Community Health Centre (CHC), Churahat had allegedly committed suicide by hanging himself in his official residence. According to his colleagues, he was under severe pressure after a molestation complaint had been filed against him.
In this case, the police had registered an FIR after the investigation on the basis of serious allegations of molestation made by a nurse.
Read Also: Mental Pressure: Accused of molestation by nurse, 29 year old Doctor commits suicide