Mumbai: Sion Doctor Assaulted after a patient Dies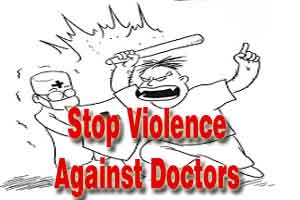 Mumbai: Reports of an assault of a 1st year Junior Resident working at the Medicine department, has come from Sion hospital, Mumbai following the death of a 70 year old patient.
The incident goes back to the night of 30th March, 2016, when a 70 year old female cardiac patient with a history of hypertension and diabetes, admitted to Sion Hospital was shifted from ward 19 to 20.  Dr Nihir Desai, posted at the said ward, noticed that patient had swelling all over her body ( Anasarca Generalised). The doctor further noticed that the condition of the patient was deteriorating, and approached the patient's attendants to take consent for the central line procedure. However, the woman accompanying the patient refused to give consent, saying she had no knowledge about why the signature was required.
Soon after another patient's attendant came, and after discussions that lasted over an hour, the family finally gave the consent. According to sources, the doctor clearly explained to the patient's attendants that the patient's condition was not stable. However, soon after, despite the procedure and care being taken, the patient did not survive.
With this, the patient's attendants got angry and roughed up the doctor present as the body was being taken for post mortem. Sion Hospital dean, Dr Merchant has confirmed the incident that Dr Nihar Desai was surrounded by a mob of 10-15 people who held his collar and assaulted him.
An offence was registered at the Sion police against unknown persons under IPC sections 353, 323, 504 and 506 and the Maharashtra Medical Services Persons and Medical Institutions (Prevention of Violence & Damages or Loss of Property) Ordinance 2010. "A complaint was filed by Dr Desai. We have registered an FIR and will investigate the complaint," said a policeman from Sion police station.
 Resident Doctors at Sion have united and are threatening Strike if action is not taken on the incident. Speaking to Medical Dialogues, Dr Arun Jaiswani, RDA President, SION hospital said, " Such kind of ridiculous instances are increasing on a regular basis. If the police does not catch the culprits by 2/04/2016 2 p.m, then all resident doctors of Sion Hospital will go on a mass bunk."
This is the second time this year, that an incidence of violence has been reported from Sion Hospital. MARD pointed out the main reason for such incidents taking place is that in government hospitals, the rule of maximum 2 attendants per patient is never implemented. Speaking to Medical dialogues, DR Sagar Mundada, President MARD said, " DMER director had promised us in July 2015 that soon rule of two relatives per patient will be introduced. Sadly, even after 9 months, the rule is yet to see any kind of implementation."