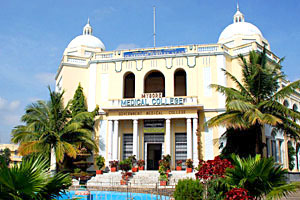 The decision of an additional 50 MBBS seats to be granted to the Mysore Medical College and Research Institute (MMCRI) is expected to arrive at a final conclusion by MCI next month. The institute is one of the oldest medical institutions in the country, and any development at the college is received with much anticipation amongst the medical community in the state.
As a part of the ongoing assessment of the college, the MCI team has so far studied the standards followed by the college in conducting examinations for UG students. Only the next final inspection step is now remaining by a three-member MCI panel next month.
MMCRI Dean and Director B. Krishnamurthy, who accompanied the MCI team, told The Hindu that the final inspection was due next month for granting recognition to 50 seats for the next five years.
"We are hopeful of getting the recognition since we have fulfilled the mandated conditions. On getting the recognition, it will be included in the record books of MCI after a review by the Executive Committee of MCI," he said.
However, there is only one concerning issue of shortage of faculty which is likely to act as a bottleneck in receiving the final permission from the MCI. The MMCRI Dean has dismissed this, as he implies that faculty shortage is less than five per cent.
This development is in lieu of a decision arrived five years ago, when the college got conditional permission to increase its intake from 100 to 150 seats and the permission was renewed every year subject to certain conditions till this year.
In a separate development, the college is also seeking permission over its application to start a PG course in psychiatry. There has been a delay in the MCI inspection over the application.
As reported by the Hindu, after two failed attempts, the MMCRI had re-applied seeking permission for the course, but there is still no word from the MCI. Even the mandatory inspection had not taken place.
The Rajiv Gandhi University of Health Sciences, Bengaluru, had already given its nod to MMCRI for starting an MD Course in psychiatry from the academic year 2013-14. But, the MCI "delay" in conducting inspection had put off the MMCRI's plans.
0 comment(s) on Mysore: Decision by MCI on MMCRI to be taken next month