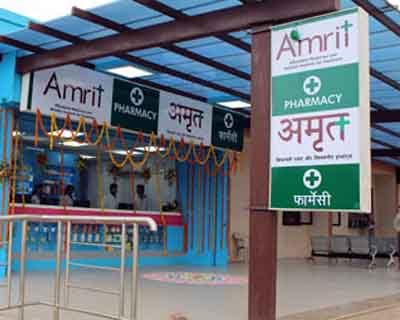 New Delhi : Union Health Minister J.P. Nadda inaugurated three AMRIT pharmacy outlets, one each in Shillong, Imphal and Jodhpur.
AMRIT pharmacies sell drugs at highly discounted rates to reduce the expenditure incurred by common patients on treatment of cancer and heart diseases.
While the Affordable Medicines and Reliable Implants for Treatment (AMRIT) outlet at Shillong is at the North Eastern Indira Gandhi Regional Institute of Health and Medical Sciences (NEIGRIHMS), the other two outlets inaugurated by Nadda are at the Regional Institute of Medical Sciences (RIMS), Imphal, and All India  Institute of Medical Sciences (AIIMS), Jodhpur.
Inaugurating the outlets through video conferencing, Nadda said that around 300 outlets shall be started by the end of 2016 and the basket of choices of drugs will also be enhanced further.
According to Nadda, AMRIT clinics have sold drugs worth Rs 28 crore as per the MRP. However, the cost to the patients through these outlets has only been Rs 9 crore.
"This has resulted in saving of Rs 19.00 crore out of pocket expenditure to the patients," said Nadda.
0 comment(s) on Nadda inaugurates AMRIT outlets in Shillong, Imphal and Jodhpur