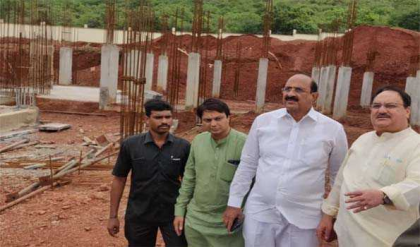 Vijayawada: Union Minister for Health and Family Welfare J P Nadda inspected the progress of the construction works of the All India Institutes of Medical Sciences (AIIMS) at Mangalagiri, near here, in Guntur district on Friday.
Principal Secretary of State Health Department Poonam Malakondaiah, District Collector Kona Seshidar and Minister for Social Welfare Nakka Ananda Babu explained the Union Minister about the progress of the construction works.
Later talking to media, Mr Nadda said it is aimed to launch the Out Patient (OP) services at the new AIIMS during January, 2019. The AIIMS, being constructed at Mangalagiri at a cost of Rs.1,681 crore, would be one of the significant institutions in the state.
He said that he had inspected the progress of the works today and he would take steps to do away bottlenecks, if any. The classes for medical students of AIIMS would begin in August, 2019, he said and expressed satisfaction at the progress of the construction works.
The Union Minister said that it had been decided to construct an AIIMS in each of the state in a phased manner and works for the construction of 13 AIIMS in 13 states had already begun. He reiterated that the Centre is committed for the development of Andhra Pradesh.
Mr Ananda Babu said that the state government had given Rs1000 crore worth 153 acres of land to the Centre for the construction of AIIMS at Mangalagiri. BJP MLA and former Health Minister Kamineni Srinivas was also present.
0 comment(s) on Nadda inspects construction works of AIIMS