Nadda talks to TN Health Min, assures support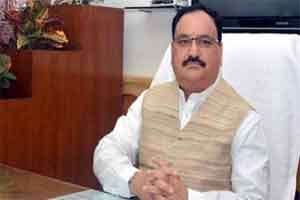 New Delhi: Union Minister J P Nadda today spoke to Tamil Nadu Health Minister C Vijay Baskar assuring all possible help as heavy rains lashed several parts of the state.

The Health Ministry is also in touch with state health officials and working to provide assistance as the southern state reported close to 200 deaths amidst unprecedented rains in 100 years pounding Chennai.

"I have spoken to Health Minister of Tamil Nadu on flood situation. Offered all possible help from Union Health Ministry," the Union Health Minister said in a tweet.

"Union Health Min. Officials are in touch with Health Officials of Tamil Nadu to provide all possible support to deal with flood situation," Nadda said.

Most areas of Chennai have been inundated after heavy rains lashed the state, severely disrupting flights, train and bus services and forcing postponement of half-yearly school exams.