Narayana Health launches first Pediatric Hospital in Mumbai to bolster its Western cluster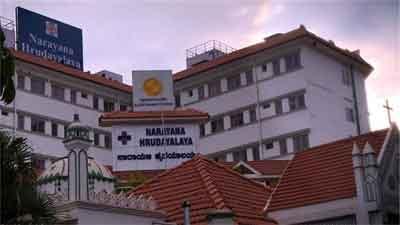 Bangalore : Narayana Hrudayalaya Limited (NH), a leading healthcare services provider in India, has launched in-patient services at its SRCC Children's Hospital at Haji Ali Park, Mahalaxmi in Mumbai.
Operated and managed by NH and backed by SRCC, an institution renowned for serving the needs of children from all sections of society, it is expected to be a premier super speciality, tertiary care "children only" hospital in the region.
NH holds the recognition of operating one of the World's largest paediatric cardiac care unit at its flagship Narayana Institute of Cardiac Sciences facility in Bengaluru. On the back of group's strong credentials in the paediatric care, SRCC Children's Hospital intends to offer affordable yet world-class medical care for infants, children and adolescents.
The hospital, highlighting NH's asset-right growth model, is designed on international standards with 207 capacity beds. It has all the paediatric super specialities under one roof including Paediatric Cardiology, Paediatric Cardio Vascular Surgery, Paediatric Neurology, Paediatric Neuro Surgery, Paediatric Haemato Oncology amongst others. The hospital also has a complete rehabilitation program which intends to take care of allied patient care services like paediatric physiotherapy, psychometric analysis, behavioural counselling amongst others.
From footprints' perspective, SRCC Children's Hospital aims to augment the fourth cluster of NH in the Western part of India besides its dominating presence in Eastern and Karnataka regions and the fast emerging Northern cluster. NH continues to progress along its strategic direction to establish itself as a true Pan-India healthcare services provider.
Commenting on the announcement, Dr Ashutosh Raghuvanshi, Vice Chairman, Managing Director and Group CEO, Narayana Hrudayalaya Limited, said "We are very excited about our maiden foray in Mumbai with NH's first of its kind pure-play children's hospital following the asset-right engagement framework. We firmly believe that India is an under served market for children despite the country tallying high on infant mortality and children's population. The launch of this hospital in Mumbai is a well-calibrated step in line with our group strategy to reinforce our presence across focused regional clusters."
Narayana Hrudayalaya has a network of 24 hospitals and 7 heart centres across India and a single hospital overseas at Cayman Islands with over 5,800 operational beds across all its centres and potential to reach a capacity of over 7,100 beds.
Recently, Narayana Hrudayalaya has also entered into an agreement with Panacea Biotec to fully acquire its subsidiary NewRise Healthcare Pvt Ltd.
Read also: Narayana Hrudayalaya comes to Gurugram, Acquires Panacea Biotec Hospital for Rs 180 crore