Narayana Health,Infosys Foundation Launches Robotic Surgery Training Program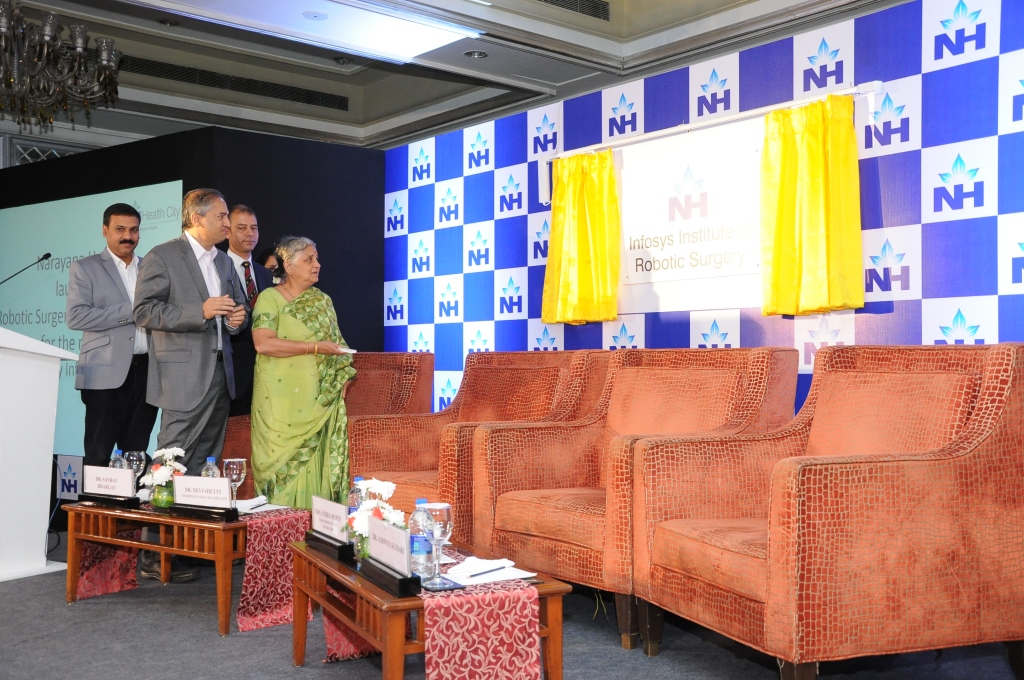 Narayana Health has launched the Institute of Robotic Surgery supported by Infosys Foundation at its flagship unit at Narayana Health City. The da Vinci Robotic Surgical System will be used primarily for prostate, kidney, gynecological, colorectal and select head & neck cancer surgeries.
Symbolically unveiling the plaque, signifying the launch of 'Infosys Institute of Robotic Surgery', Mrs. Sudha Murty, Chairperson - Infosys Foundation said, 
"The need to adopt and continually update treatment protocols that reduce errors is crucial for a country like India, which sees high patient volumes and a wide spectrum of complex diseases.  Robotic surgery, with its high degree of precision and faster recovery time, has the potential to address this efficiently. Our partnership with Narayana Health, incontestably a pioneer in delivering world-class healthcare, is aimed at encouraging rapid adoption of robotics in healthcare in India. Through this endowment, we also intend to provide impetus for further research in this area, and enable the masses to reap the benefits of affordable and high-quality treatment."
Technique of surgical intervention on the human body is undergoing dramatic change.  It took over 30 years for laparoscopic surgery to replace open abdominal operation. "World is on the threshold of a major transition from laparoscopic surgery to robotic surgery", said Dr. Devi Shetty, Chairman – Narayana Health. Robotic surgery has proved that inaccessible areas of the human body like deep in the pelvis where a prostate surgery needs to be done for a patient with cancer of the prostate can easily be accessed. Robotic surgery has proven beyond doubt its supremacy. "It is a matter of time before most procedures on the human body will be done better with the robotics. However, for the large scale technical adoption of robotic surgery major hitch is the surgeon's skill", informed Dr. Shetty. Today surgical robots are available in very few centers across the world and the training program to train an experienced surgeon as a robotic surgeon is expensive and inaccessible.
Explaining further on the need for such training programs, Dr. Devi Shetty said, "Infosys Foundation always believed in the power of technology to transform the world and address the human sufferings.  With that objective, Infosys Foundation donated 'da Vinci Surgical Robot' to develop Infosys Institute of Robotic Surgery to train robotic surgeons for the future. The philosophy of creating the institution is to train any surgeon with a passion to learn robotic surgery and certify them to start robotic surgical program in different parts of the country. NH Foundation along with Infosys Foundation strongly believes that this is the only way robotic surgery services will be available to the common man of this country".
Explaining the learning curve, Dr. Saurabh Bhargava, Head of Urology Department, Consultant Urologist and Uro-Onco Surgeon at Narayana Health City said, "Our training program is mentor-based rather than building patient base to have a learning experience. We have acquired skills, so that we have competence to train others, that's what needs to be done. So the learning experience takes place with a mentor in place at Narayana Health".
All surgeons have to undergo a formalized mentorship program. The Robotics team has been through an extensive clinical education, training and preparation period. The training is provided in a phased manner. Phase 1 includes basic training explaining the concepts, technology, features and functionalities. The operating surgeon has to first understand the technical aspects of its work, how to set it up, how each part works and its role. Then the surgeon attends a simulator workshop and practices on mannequins, followed by a period of observation. Then with a mentor in place the surgeon begins with simple techniques and then gradually moves on to more complex surgeries.
Using the da Vinci robotic surgery system, surgeons operate through just a few small incisions. The da Vinci System features a magnified 3D high-definition vision system and tiny wristed instruments that bend and rotate far greater than the human wrist. As a result, da Vinci enables surgeons to operate with enhanced vision and precision. Benefits to the patient include smaller incisions that lead to less stress on the body, reduced chances of infection and faster recovery times post-surgery.
Highlighting the benefits of the da Vinci Robotic Surgery System, Dr. Saurabh Bhargava, said, "The access to the organ of interest can be done with key-hole procedures, but the robotic arms and instruments can be moved in such a manner that mimics your hand; compared to a surgeon's hand, the robotic arm gives far greater flexibility and access while performing surgery. In Robotics surgery, the instrument's arms are so well designed that you can maneuver in any direction to reach the access point with precision, so the results are functionally much better because you get a clear view".
Surgeons use a computer-controlled robot to assist them in certain surgical procedures. There are around 15 types of surgeries that can be performed using Robotics technology. At Narayana Health City the da Vinci Robotic Surgery System is installed in a dedicated operating room with dedicated and well-trained surgeons, assistants and staff exclusively for Robotic Surgery capable of performing complex surgeries in Urology, Gynecology, Gastrointestinal surgeries,
General Surgery and various types of cancer treatments.
Benefits of Robotic Surgery:


Operating time is reduced


Less Blood Loss leading to lesser Blood Transfusion


Faster recovery & shorter hospital stay


Low rate of Complications


Small incisions for minimal scarring


Gives better vision for surgeons to see the structure more clearly and thereby perform the surgery more efficiently.


"Robotics surgery is an amalgamation of open surgery and laparoscopic surgery. Use of the da Vinci system raises the standard of care for complex surgeries - translating into better care and numerous benefits for our patient, which is ultimately our purpose for utilizing this technology," said Dr. Ashwini Kumar D. Kudari, Senior Consultant, Surgical Gastroenterologist, Narayana Health City.
da Vinci Robotic Surgery System enables surgeons to perform even the most complex and delicate procedures through very small incisions with unmatched precision.