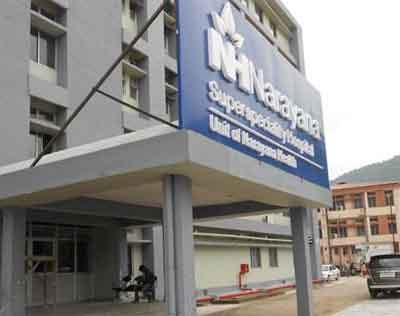 Kolkata: Narayana Superspeciality Hospital, Howrah on Sunday organized a special screening of the Bengali Movie "Kontho" for Cancer Survivors and announced the launch of Laryngectomy Club at INOX, Metropolis.

Read Also: Narayana Hospital's 3rd Anniversary: Shrine Board allocates Rs 2.5 crore for free treatment to patients
The full house screening was preceded by an exclusive interaction with Dr. Pankaj Chaturvedi, Head Neck Cancer Surgeon and Deputy Director, Tata Memorial Hospital, Mumbai; Dr. Sourav Datta, Consultant Head and Neck Onco Surgery, NSH Howrah; Dr. Harsh Dhar, Consultant Head and Neck Onco Surgery, NSH Howrah; Dr. Ashok Kumar Das, HOD, Head and Neck Onco Surgery, B Barooah Cancer Institute, Guwahati along with Shiboprasad Mukherjee, Nandita Roy, the directors duo and the movie star cast of Paoli Dam and Jaya Ahsan of Kontho.

................................ Advertisement ................................
R. Venkatesh, Regional Director, Narayana Health (East) and Subhasis Bhattacharya, Facility Director, NH Howrah were also present to address the Media.
................................ Advertisement ................................
Read Also: Oncology department launched at Narayana Multispeciality Hospital
Earlier, Medical Dialogues had reported that the Post-Graduate Institute of Medical Sciences, Rohtak (PGI Rohtak) provided a report that confirmed 16 out of 54 cancer patients whose death was claimed to be with 'accidents' for claiming insurance money, availed treatment from its Radiation Oncology department.
Haryana police's Special Task Force ( STF) had busted an insurance scam pertinent to cancer and chronic disease patients.
The investigation revealed the involvement of an MBBS doctor of the civil hospital in the racket and as well as head of a police constable of the Kundali police station in Sonepat.
The doctor was allegedly paid an amount of Rs 1.5 lakh each for the autopsy of fake accident victims who were suspected to perform over a dozen fake autopsies.
Author Details
Medical Dialogues Bureau consists of a team of passionate medical/scientific writers, led by doctors and healthcare researchers.  Our team efforts to bring you updated and timely news about the important happenings of the medical and healthcare sector. Our editorial team can be reached at editorial@medicaldialogues.in. Check out more about our bureau/team here
................................ Advertisement ................................
0 comment(s) on Narayana Hospital screens movie based on Laryngectomy cancer