Narayana Hrudayalayas Rs 613 crore IPO opens on Thursday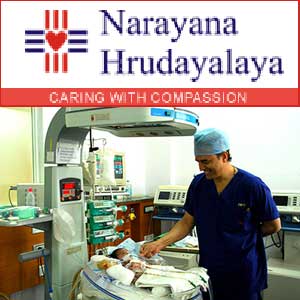 Bengaluru: Leading private healthcare service provider Narayana Hrudayalaya (NH) announced a Rs.613 crore initial public offering (IPO), aimed at expanding operations.
"India needs 30 lakh hospital beds.. the government has no plans to add these beds. The way forward is a company which uses all the business principles and comes with a solution which is affordable," said NH founder-cum-chairman Devi Prasad Shetty on Monday while announcing the IPO.
Opening on Thursday, the IPO offers 2,45,23,297 equity shares of face value of Rs.10 each at a price band of Rs.245-250 per equity share with the bid closing on December 21.
The IPO comes with a minimum bid lot of 60 equity shares and in multiples of 60 equity shares thereafter. Axis Capital and IDFC Securities and Jefferies India private limited are the book running lead managers (BRLM) for the IPO.
The IPO also has an Offer for Sale (OFS) element wherein promoters and existing shareholders are offloading their stake.
In the OFS, Ashoka Investment Holdings Limited is offloading 62,87,978 equity shares, Ambadevi Mauritius Holding, 18,86,455 equity shares and JP Morgan Mauritius Holdings IV, 1,22,61,648 equity shares.
Promoters Shetty and Shakuntala Shetty are selling 20,43,608 equity shares each.
Founded in 2000 by cardiac surgeon Shetty, NH operates 24 primary care facilities, eight heart centres and 23 hospitals across 31 locations in India.
"Our primary focus is on south and east India while we are slowly foraying into the central and western parts," said senior vice president, strategy and planning, Viren Prasad Shetty.
New NH hospitals are coming up in Vaishno Devi shrine in Jammu and Kashmir, Lucknow, Bhubaneshwar and Mumbai, he said.
The hospital chain has 5,442 beds.