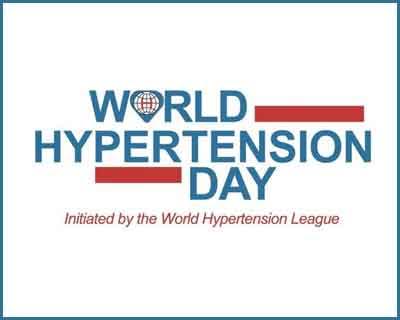 Hypertension is one of the most common lifestyle diseases today, with one in every 3 people in the world, suffering from it. Currently, estimates put the incidence of hypertension to 20 to 40% in urban areas and 12 to 17% in rural areas of India. Hypertension has been increasing consistently and is likely to assume epidemic proportion.
Hypertesion is called a Silent Killer because most of the times there are no symptoms in patients of High Blood Pressure and patients usually report to attending doctors with symptoms of complications of High Blood Pressure ( and not hypertension itself), which include HEART ATTACK, STROKE, KIDNEY FAILURE and damage to RETINA (retinopathy). Therefore, it is important that every normal individual  should  get his blood pressure  checked up and recorded in order to know whether he is suffering from the disease or not. These include even younger healthy individuals especially if they have a family history of the disease
In a developing country like India where patients do not have regular contact with the health service a, mass screening program of blood pressure is important to randomly screen and diagnose fresh cases of Hypertension.While in developed countries, hypertension screening is a part of medical examination, special efforts need to made to create awareness, both among doctors and patients, to make it an integral part of every examination. Keeping this in mind National Medical Forum, a 15 year old organisation aimed at promoting inclusive health in the country has launched National Hypertension Screening Research Program inviting participation from doctors all over the country to participate and screen patients for the entire month.
Dr Prem Aggarwal, President National Medical Forum said "WHO has marked 17th May as "World Hypertension Day" to  draw attention of all stake holders towards this major health issue which has been declared as number one killer in the world. Taking cue from WHO and ICMR, on this special day  National Medical Forum is launching  a National Hypertension Screening Research Program wherein more than 1000 institutions/Stand alone clinics/Nursing Homes /Hospitals all over India  have already agreed to participate & have enrolled themselves as research associates. In addition to this, 218 doctors have volunteered to be City Coordinators.
The duration of research program shall be one month which shall preferably commence on 17th May 2017 & shall continue till 16th June 2017. However, medical institutions are free to choose dates suitable to them but the duration of research project shall be 30 days only.  All the participating units shall record blood pressure of non hypertensive normal walk in individuals in a prescribed  format, and send back compiled data after culmination of research programme.
They shall be issued a certificate of participation by National Medical Forum
By analysis of data of  research programme we will not only be able to  estimate Prevalence of disease in India but will also be able to  diagnose fresh cases of Hypertension.
Dr KK Kohli, Secretary General, National Medical Forum said, "Observing the World Hypertension month, worldwide program is being run to screen population for hypertension.  We hope that with wide participation from the medical fraternity and public at large, this important programme of BP screening shall also contribute towards United Nations achieving  its goal of 25% reduction in uncontrolled hypertension by  2025 ."
Click on the following link for the registration in Hypertension Program 
0 comment(s) on National Medical Forum launches National Hypertension Screening Research Program, Join Now