National Medical Commission Bill to replace MCI finalized with changes, sent to Cabinet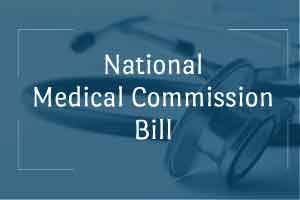 New Delhi: With an aim to introduce a complete reform the medical sector in the country, The National Medical Commission Bill 2016, Bill has inched towards clearing, with the health ministry finalising the bill and sending it to the Cabinet for approval.
Medical Dialogues team had earlier reported that the draft bill had been put forward on 2016 after recommendations were made by a Niti Aayog Committee to bring overhaul in the medical education sector by replacing the Medical Council of India with a more transparent body of National Medical Commission
As the name suggests, the bill calls for the scrapping of MCI and creation of a NATIONAL MEDICAL COMMISSION to be the apex policy-making body for regulating medical education in the country, which through the functioning of its four constituents boards will regulate the medical sector. Besides this, a new Institutional Architecture for Regulation had been suggested in the bill with a Medical Advisory Council (MAC) having representation from the States and Union Territories (UTs) to articulate the national agenda for medical education.
Journey So Far
In 2017, the bill was put forward in the public domain for suggestions/comments. The bill was simultaenously sent to respective state governments for suggestions.
It is reported that with strong objections raised by many bodies in the medical fraternity, on the issue of lack of elected members to the commission, as well as proposed National Exit Test after MBBS, the bill was then forwarded to the GoM to look into the bill as well as the concerns of the stakeholders and reach a consensus. The bill was then sent by the GoM to the ministry after clearance.
Bill Finalised with Changes
A recent report in Indian Express states that the bill has been finalised and sent to the Cabinet. The final draft contains two major changes from what the Health Ministry had proposed —


Only five members of the NMC will be elected while the others will be nominated by the government- the said change was made after the PMO sought a reduction in the number of elected members. It would, Health Ministry officials said, ensure that the government has more leverage and prevent the system from descending into the present state, where the MCI and government are often at loggerheads on many issues.


The government will be the second appellate authority in case disputes arise- there are also ex-officio members of the commission that include nominees from the Ministry of Health, Department of Pharmaceuticals, Human Resource Development and Director General of Health Services. It was the Niti Aayog that pushed for a change in the appeal structure, reports IE.


Read Also: MCI Replacement: IMA on board, NMC Bill to be tabled in coming Parliament Session, informs Nadda