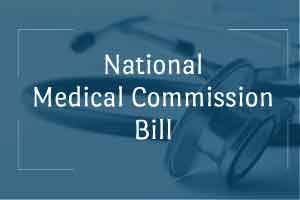 New Delhi: The country is soon going to get a new apex medical regulator as the Cabinet today gave its nod to the bill calling for the replacement of the Medical Council of India with a new regulator, National Medical Commission
It is reported that the Cabinet with its meeting held today has given its approval to the National Medical Commission bill, 2017 which calls for the replacement of the Medical Council of India. The move comes in followup of the health ministry sending the bill after finalization in the month of October 2017 after incorporating certain changes including the number of elected members versus nominated members in the said Commission as well as appointment of the government as a second appellate authority in case disputes arise.
As per protocol, the bill will now be tabled in the Parliament to get it cleared at both the Lok Sabha and the Rajya Sabha. Alternatively, in certain cases, a bill is also brought in by the ordinance route. It remains to be seen what will happen next
Read Also : National Medical Commission Bill to replace MCI finalized with changes, sent to Cabinet
Medical Dialogues team had earlier reported that the draft bill had been put forward on 2016 after recommendations were made by a Niti Aayog Committee to bring overhaul in the medical education sector by replacing the Medical Council of India with a more transparent body of National Medical Commission.
As the name suggests, the bill calls for the scrapping of  MCI  and creation of a NATIONAL MEDICAL COMMISSION to be the apex policy-making body for regulating medical education in the country, which through the functioning of its four constituents boards will regulate the medical sector.  Besides this, a new Institutional Architecture for Regulation had been suggested in the bill with a Medical Advisory Council (MAC) having representation from the States and Union Territories (UTs) to articulate the national agenda for medical education.
The bill had faced objections from many in the medical community, as it proposed NEXT  ie National Exit Test for MBBS students passing out of government as well as private colleges to address concerns over the standard of medical education in the country. However, no changes were made in the bill in this regard
More details to follow….
Read Also : National Exit Exam to Become Reality 
24 comment(s) on Cabinet Approval: National Medical Commission to Replace MCI, NEXT to become reality