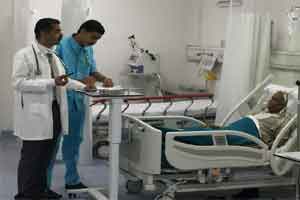 Mathura:Nayati Multi Super Specialty Hospital, as part of its commitment to raise the level of patient care services to world-class standards in the Tier II & Tier III cities, announced that they will continue to combat emergency and trauma cases in the region of Uttar Pradesh.The Emergency Department is prepared and equipped to provide comprehensive emergency care to patients of all ages in consultation with medical and surgical specialties to treat acute illnesses and injuries.
Nayati Healthcare Chairperson Niira Radia said, "Since there is no trauma centre available in the region, Nayati has brought the much needed medical care. For last few months, ever since Nayati Emergency department has been operational, patients with serious condition are getting urgent medical response in golden hour to save their life. In a short span of two months, we are proud to have earned the reputation of responding swiftly in times of accidents, heart attacks, paralytic strokes and such other life-threatening circumstances, thus ensuring optimum chances of survival and recovery to the affected."
The Department of Emergency Medicine at Nayati Multi Super Speciality Hospital provides a dedicated team of physicians, nurses and other health professionalsround the clock to provide an extraordinary level of knowledge, skill and compassion to every patient we serve. The 16 – bedded emergency room is equipped with state-of-the-art equipment for a wide spectrum of patients with acute emergencies for initial evaluation, resuscitation, treatment, investigation, stabilization, monitoring and disposition.
 Dr. Ganapathi Gangoli, Head of Department, Emergency Medicine, Nayati Multi Super Specialty Hospital stated, "Nayati Emergency & Trauma unit is a full-fledged medical care unit in our region with Pediatric Emergency, Maternal Emergency and Cardiac Emergency units. It is also the only Emergency Department in the region which provides a comprehensive stroke pathway which can mitigate disability and prevent deaths in cases of stroke. With the help of cutting edge technology, 24*7 availability of expert care and ancillary services we are able to provide international level care to the patients through implementations of international guidelines. And this is definitely a step in the direction to make Nayati the best emergency medical care unit of the region."
Another component of the Department of Emergency Medicine is the critically ill transport programme which is available to transport critically ill or injured patients. It provides high-quality medical care during patient transport and thereby attending to the patient in the golden hour. Ambulances utilize both nurse-led and physician-led transport teams depending on the acuity of the patient.
0 comment(s) on Nayati Healthcare to focus on emergency care in Mathura