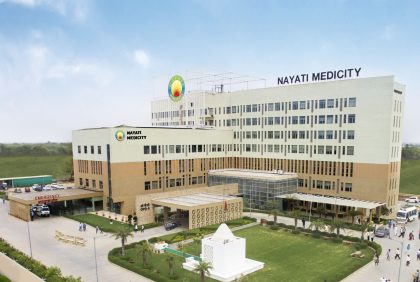 New Delhi:  Nayati Medicity, Mathura, the flagship hospital of Nayati Healthcare received the prestigious accreditation from the National Accreditation Board for Hospitals and Healthcare Providers (NABH), the highest recognition for providing quality patient care and safety.
With this, Nayati Medicity becomes the first hospital in the region to receive this certification.
On the occasion Ms. Niira Radia, Chairperson Nayati Healthcare, said "It brings a great sense of fulfillment and happiness that within two and half years of starting its operations, Nayati Medicity has become one of the most sought-after healthcare institutions, in terms of high-quality patient care, bringing in the world's best infrastructure and clinical expertise. This would not have been possible without the overwhelming love and support we received from the people of the region.
NABH recognition is a landmark and a testimony to our effort of bridging the gap and taking world-class state-of-the-art medical facilities to people living in tier II and tier III cities of India. It reinforces our commitment of making quality healthcare accessible, affordable and accountable to communities who need it the most ."
Dr. R.K. Mani, CEO Nayati Healthcare, said, "The NABH accreditation is a major milestone for any health care provider as it recognizes the fact that the facilities meet the highest norms of quality and safety standards. Nayati Medicity provides comprehensive medical facilities in all disciplines and specialized verticals of healthcare. With eminent doctors leading each practice, we are committed to delivering world-class healthcare to an increasing number of patient base at an affordable price point, while continuing to strive for excellence."
0 comment(s) on Nayati Medicity, Mathura receives NABH accreditation