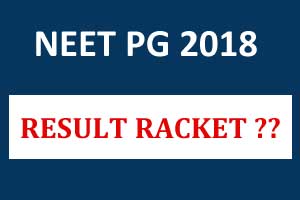 NEET PG 2018 is a high stake and sensitive exam and foul play in such a prestigious exam shall affect the future of medical professionals
New Delhi: The National Board of Examinations, the exam conducting body responsible for conducting NEET PG 2018 has recently filed a complaint with the police station sector-9 Dwarka New Delhi 110077 on the issue of certain scamsters calling PG aspirants and promising them better ranks in exchange of money.
The FIR was registered following a High court order on the matter directing that the NBE should actively follow-up the issue and ensure that the FIR is registered at the most expedient time. The Delhi High court, responding to an appeal filed by Dr Mohinder Kumar alleging NBE has apparently not followed-up the process appropriately and demanding a CBI inquiry in the matter, also directed the Delhi Police to take appropriate and consequential steps.
................................ Advertisement ................................
Following the directions of the court, an FIR has been registered on 12/04/2018 based on the complaint filed by NBE in the matter.
"NBE has conducted NEET PG 2018 on 7th Jan 2018 on an All India Basis of Computer-Based Platform in 150 cities the total no. of candidates who appeared in NEET PG 2018 is 128917 The result of NEET PG 2018 has been declared by NBE on 23/01/2018 wherein the marks obtained by each candidate has been declared" stated the FIR complaint, a copy of which is with Medical Dialogues
................................ Advertisement ................................
" NBE is in receipt of an email dated: 30/01/2018 from a complainant. The complainant has attached four audio clips of telephonic conversation between the complainant and a tout/agent. The tout/agent is demanding money from the complainant to help the complainant's daughter to secure a good rank in NEET PG 2018. Further, the tout/agent is providing the detail of the candidate including the candidate's DOB, Address, Application Form No. and Adhaar No. The tout/agent is promising the complainant that he will help his daughter to secure a post-graduate seat in a government hospital," informed NBE
The complaint added that indeed the tout/agent had correct information about the candidates.
"While the claims made by tout/agent are bogus as the result is prepared on the basis of performance of the candidate on the exam day and in no way the marks/merit of any candidate can be changed , the particulars of the candidate which are part of the online application form of the candidate and mentioned by the tout/agent in his conversation with the complainant are found to be correct."
" It is pertinent to mention here that the role of NBE is limited to conduct of NEET PG 2018 and declare the merit list and provide it to the central govt. and various states governments. The allotment of seats shall be done by the central govt. and various state governments. NBE has no rule allotment of Post Graduate Medical Seats" added the complaint
"NEET PG 2018 is a high stake and sensitive exam and foul play in such a prestigious exam shall affect the future of medical professionals- the matter is being referred to you for further investigation as per law / CrPC.We shall be pleased to provide you any information has asked for (regarding this matter) which is in our custody" stated NBE
Read Also: NEET PG Result Racket: NBE issues Advisory to Aspirants

Meghna A Singhania is the founder and Editor-in-Chief at Medical Dialogues. An Economics graduate from Delhi University and a post graduate from London School of Economics and Political Science, her key research interest lies in health economics, and policy making in health and medical sector in the country.
She can be contacted at meghna@medicaldialogues.in.
Contact no. 011-43720751
10 comment(s) on NBE files Police Complaint against NEET PG 2018 scamsters, FIR registered