................................ Advertisement ................................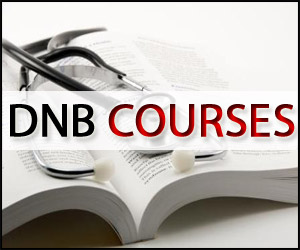 New Delhi: The National Board of Examinations (NBE) is going to provide hands-on training workshop for hospitals and medical institutions who are intending to apply for DNB Programme.
The information to this effect comes via a recent notification on the official website of NBE which clearly stated that after a series of meetings held in PMO, in Niti Ayog and MoHFW, it has been decided to coordinate with the State Governments and all the central and state agencies/ institutions/ PSUs such as AFMS, Railways, ESIC, CIL etc regarding Scaling up Medical Education by enhancing capacity for training of Specialist utilizing District hospitals, AFMS hospitals, Railway hospitals, ESIC hospitals, CIL hospitals, other PSU hospitals etc.
For the same, NBE is  now going to hold a workshop for these hospitals tomorrow
The notice further adds,
In view of encouraging greater participation of Govt hospitals across the country, a hands-on training workshop for PSU, CPSE, Municipal Corporations, Railway Board, ESIC run Govt hospitals is being organized by NBE on 15th of April 2019 at NBE Dwarka Office (PSP Area, Sector – 9 Dwarka), 11 am onwards. The workshop is likely to be over in 3 hours. It is requested to make it convenient to attend the same along with nominated representatives from each of the hospitals under your ambit.

................................ Advertisement ................................
National Board of Examinations (NBE) administers postgraduate and postdoctoral course in various disciplines of modern medicine leading to the award of Diplomate of National Board (DNB) and Fellow of National Board (FNB). DNB is a Post Graduate level degree programme administered by NBE in 30 Broad Specialty and 30 Super Specialty disciplines. NBE is also entrusted with the responsibility of conducting NEET – PG, NEET – SS, NEET – MDS and FMGE Screening Test.
NBE administers its DNB courses through its more than 615 accredited hospitals across the country contributing to about 7783 postgraduate DNB seats, mostly in clinical disciplines. NBE offers a rapid, flexible and practical expansion potential of raising the specialist seats in the country.
Read Also: GMC Pudukottai to start DNB Emergency Medicine with 2 seats; gets NBE nod
For more details click on the original website of NBE is given below:
http://natboard.edu.in/pdoof/pbnotice2019/Hands%20on%20training%20Workshop%20-%2015-04-2019.pdf?h88233erhx90wsd0q2wk2s2ks2weuigfu3g77844jh89de
Garima Joined Medical Dialogues has been associated as Editor for Medical Dialogues since the year 2017. She looks after Medical Education issues, Court Judgments pertaining to Medical Education, MCI/DCI decisions, government policies as well as all the news and updates pertaining to Medical and Dental Colleges in India. She is a graduate from Delhi University. She can be contacted at editorial@medicaldialogues.in Contact no. 011-43720751
................................ Advertisement ................................
1 comment(s) on NBE to hold Hands on training workshop for hospitals planning to apply for DNB Programme