Need $5 billion more to make biotech a $100 billion sector: Kiran Mazumdar-Shaw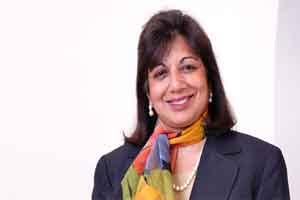 BENGALURU: Biocon chief Kiran Mazumdar Shaw said it will take an investment worth $5 billion in biotechnology to realise the target of making it a $100 billion sector by 2025.

"Today, biotechnology is a $11 billion sector, growing at a compounded annual growth rate of 20 per cent. We also are aspiring to be a $100 billion sector by 2025," Mazumdar Shaw said.

Though this seems a "fairly daunting task", she said, adding that "by investing in human capital and in the sector alone in terms of infrastructure and other research initiatives, I think we can actually deliver on this aspiration."

"We have estimated that it will take a $5 billion investment in biotechnology or life sciences to deliver on this potential of realising $100 billion as a sector."

Mazumdar-Shaw, also the Chairperson of Karnataka Vision Group on Biotechnology, was speaking at the inauguration of 16th edition of 'Bangalore India Bio 1016' here.

The event was also attended by Union Science and Technology Minister Harsh Vardhan and Secretary in Department of Biotechnology K Vijay Raghavan, among others.

Stating that India's investment in science and technology is at suboptimal level, she called on the government to invest more.

"Amongst all the countries who invest in science and technology we are at a suboptimal level, we actually have here, Korea which actually leads the way in investing in science and technology and I think India needs to basically up its game in science and technology through greater investment," she said.

"We request you (Harsh Vardhan) to push the government to make sure that our investment in science and technology only grows and increases, because this is the future of India, this is what will give us demographic dividend from our scientists," she added.

The three-day long "Bangalore India Bio" will be covering various spectrum of activities including multi track conferences, international trade show, key note talks, poster sessions, bio invest, global biotech conclave, among others.

She said to dominate in the field such as biotechnology and information technology what is paramount is human capital, which will actually shape India's science and technology prowess in the world.