Need for developing low-cost diagnostics, Health treatment to make India Medical Tech Hub: President Kovind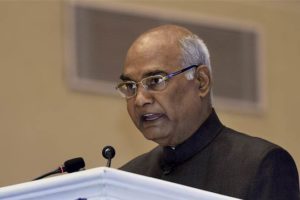 Jodhpur: President Ram Nath Kovind on Saturday emphasised the need for developing low-cost diagnostic, treatment and rehabilitative services and make India as a medical technology hub.
Addressing the 2nd convocation of AIIMS, Jodhpur here, he said "it is important that India starts making its own equipment that not only serves to provide affordable healthcare but also sets up India as a medical technology hub as part of the Make in India initiative."
In his convocation address, the President urged the graduating students to remain full of empathy, and never let an opportunity pass to save or improve lives using their skills and knowledge.
He said they should always try to maintain highest level of ethical standards and professionalism for the entire career.
"All doctors and nursing graduates would do well to remember that the community around them looks up to them, and they would have to maintain the nobility of the profession," he said.
Later, speaking at the Rajasthan High Court function, Mr Kovind said his utmost concern was making justice accessible to all.
"We read about the bells of justice at royal palaces in old times. Anybody could ring the bell and ask the king to right a wrong.
Today, can the poorest of the poor and the most marginalised come here to seek redressal of their grievances? This is of utmost importance, as the very Preamble of the Constitution exhorts all of us to make justice accessible to all," he exhorted.
Read Also: PMJAY beneficiaries availing high-cost treatment under RAN- Health Ministry rejects AIIMS, NHA proposal
He said there were many reasons behind the high and sometimes prohibitive cost of justice. But if we keep Gandhiji's advice in mind, if we recall the face of the poorest and weakest man or woman we may have seen, we will find ways.
For example, we can help the needy with the provision of free legal aid.
On technology being a great leveller of our times, leading to social changes, he said its application in the area of the justice dispensation could open the high portals of the judiciary to the common people.
Read Also: HC Contempt notices to Centre, AIIMS Delhi for For Non-Payment Of Cost of Rs 25,000