NEET PG: Registration becomes nightmare for Students, MP Shashi Tharoor demands more centres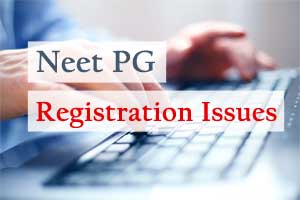 Kerala: Registration for the NEET PG 2018 exam turned out to be a harrowing experience for students as website gliches and the shortage of exam centres, haunted the students even on the first day.
Soon after the registrations began, the registrants complained that they ran out of exam centres, and website glitches made the registration process a nightmare.While some students complained that the site took hours to load, while others could not change the uploaded picture. Many OBC candidates could not make payments, while many candidates made the payment, but was not showing in their records.
As soon as registration process began at 3 p.m. on Tuesday, the rush for registration created a panic, with angry students taking to twitter to vent their anger. Following are some of the issues highlighted by the students
Registration Issues
Difficulty in form Filling
Selection of Exam Centres
PAYMENT Issues
As the day progressed centres kept running out in Karnataka and Tamil Nadu as well as Kerala, a state having maximum applicants in the country forcing students to take centres in far off places. The state of Kerala has more than 12,000 doctors from the State who are expected to apply for the NEET PG exam, but  for which there are only 1,700 candidate slots in four centres, out of the total 129 centres across the country. Congress MP from Thiruvananthapuram, Shashi Tharoor soon came out in support of students stating that he will write to the HRD minister and demand for more seats and centres in Kerala for NEET-PG.
The National Board of Examination, under the Ministry of Health and Family Welfare, conducts NEET-PG