A New Hope For Mobility After Stroke - Cortimo Trial's Enticing Findings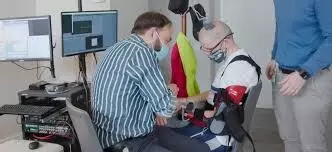 Jefferson researchers at the Vickie and Jack Farber Institute for Neuroscience have initiated Cortimo trial (patent pending), using microelectrodes in the brain and a robotically-powered brace to test a method that could one day restore movement in parts of the body impaired by stroke and offer patients with long-term disability new hope for better mobility & restored function.
Many patients suffer long term disabilities from stroke and struggle with activities of daily living and simple tasks such as drinking a cup of coffee or zippering a jacket. The Cortimo trial (patent pending) and future studies to help restore function bring new hope for stroke recovery. This could be a game-changer in rehabilitation options for stroke patients.

Cortimo trial was a proof of concept study that acts as a necessary bridge for additional studies that will pave the way for a future in which a patient with a permanent disability from a stroke can regain function. This implantation procedure was previously done by Dr Serruya, 15 years ago, who was also part of the present team (principle investigator). Recently, Jefferson Health performed this procedure on their first patient who had suffered a stroke, two years ago. Researchers microelectrodes into the brain that then decodes signals to drive motor function on the powered arm brace allowing the patient to "power steer" his or her own arm. The team has been working for the past three months to train his control of the brain-implant in order to drive movement of the robotic brace that was fitted for his impaired arm.
The principle investigator Dr Mijail D. Serruya, MD, PhD, an assistant professor of neurology at Thomas Jefferson University in Philadelphia, reported in an interview, "The risk-benefit may be acceptable for someone who has quadriplegia because of, for example, spinal cord injury or end-stage ALS who may already have a tracheostomy and a percutaneous endoscopic gastrostomy. But for someone who is hemiparetic and ambulatory, that may not be acceptable. And a fully implantable system would also have much better patient compliance."
However, he also said that contraindication would eventually be solved with the advancement in science and engineering over a while.
He concluded, "Now we can point to the fact that 2 years after stroke, all of these brain areas are still active, and devices that can potentially reverse and unparalyze your limbs may be available in the coming 5- or 10-plus years." and further added, "I don't want to cause unreasonable hope that we're going to snap our fingers and it's going to be cured. But I do think it's fair to raise a possibility as a way to say that keeping oneself really healthy is justified."
For further information:
https://hospitals.jefferson.edu/departments-and-services/vickie-and-jack-farber-institute-for-neuroscience/research-education/brain-implants.html
Article Source :
Jefferson Health Press release