RimabotulinumtoxinB safe, effective treatment option for sialorrhea, confirms study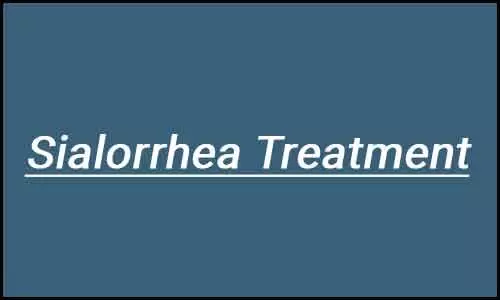 Sialorrhea is a common disorder that is frequently seen in patients with Parkinson disease, amyotrophic lateral sclerosis, and cerebral palsy. Injection of rimabotulinumtoxinB into the salivary glands inhibits salivary production and was previously shown to be safe and well-tolerated.
The U.S. FDA had approved rimabotulinumtoxinB for treating sialorrhea.
The researchers conducted a randomized clinical trial to assess whether RimabotulinumtoxinB (RIMA) may be preferable as an anti-sialorrhea treatment compared with current oral anticholinergic drugs in people with neurological disorders.
Now, researchers report on phase 3, manufacturer-sponsored, randomized, parallel, double-blind, placebo-controlled trial to assess the safety, tolerability, and efficacy of rimabotulinumtoxinB (2500 and 3500 U) injections for the treatment of sialorrhea. Investigators enrolled 187 patients with sialorrhea: 147 were male, 122 had Parkinson disease, 13 had a prior stroke, 12 had amyotrophic lateral sclerosis, 6 had medication-induced sialorrhea, 4 had adult cerebral palsy, and 30 had sialorrhea caused by other conditions. Of the patients, 176 completed the study. Unlike placebo, both doses of the medication significantly reduced the unstimulated salivary flow rate from baseline to 4 weeks (−0.30 g/min with both doses vs. placebo). The onset of the effect was identified at 1 week. Adverse effects were common but mild and were primarily dry mouth, dysphagia, and dental caries.
The researchers concluded that treatment with RIMA (2500 U and 3500 U) in adults was well tolerated and reduced sialorrhea, with the onset of the effect at 1 week after the injection. These data support the clinical use of RIMA in the management of sialorrhea in adults.
The experts feel that RimabotulinumtoxinB significantly decreases this symptom with a single treatment session and therefore should be considered a good option to manage this condition and improve the quality of life of many patients.
For further reference log on to :

Isaacson SH et al. Safety and efficacy of rimabotulinumtoxinB for the treatment of sialorrhea in adults: DOI:10.1001/jamaneurol.2019.4565 JAMA Neurol
Source : JAMA Neurology