Tdap vaccination may Reduce Risk of Dementia in elderly, Finds study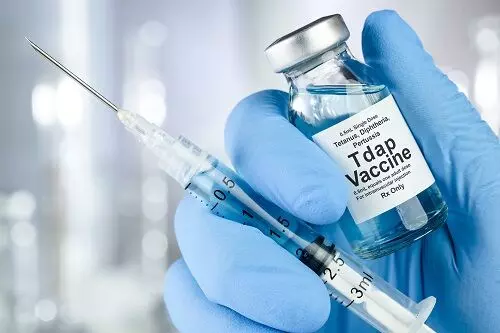 A growing number of studies have found vaccinations are associated with a lower risk of dementia. In a study, researchers have found that tetanus, diphtheria, pertussis (Tdap) vaccination might lower dementia risk by 42%. The study findings were published in The Journals of Gerontology: Series A on April 15, 2021.

Adult vaccinations may reduce the risk for dementia. However, it has not been established whether tetanus, diphtheria, pertussis (Tdap) vaccination is associated with incident dementia. Therefore, Dr Jeffrey F Scherrer and his team conducted a study to determine whether individuals with an objective history of Tdap vaccination, compared to those remaining free of Tdap vaccination, had lower dementia incidence. They further evaluated whether this association differed by age groups (65–69, 70–74, and ≥75 years).
Researchers tested their hypothesis first in the Veterans Health Affairs (VHA) cohort and then replicated it in an IBM MarketScan medical claims cohort. The representative cohort study used deidentified VHA medical record data from 2008-2019. The MarketScan cohort was comprised of deidentified patient data from 2009-2018. The cohorts included patients who had at least three well-visits during the observation period. Follow-up continued through 2018. They included a total of 122,946 eligible VHA patients and 174,053 eligible MarketScan patients.
In the VHA cohort, the patients were, on average, 75.6 (SD ± 7.5) years of age, 4% female, and 91.2% were White. In the MarketScan cohort, the patients were 69.8 (SD ± 5.6) years of age and 65.4% were female. They used Competing risk (VHA) and Cox proportional hazard (MarketScan) models to assess the association between Tdap vaccination and incident dementia in all patients and age subgroups.
Key findings of the study were:
The researchers found that after controlling for confounding variables, patients with Tdap vaccination had a significantly lower risk for dementia in both groups. (VHA: hazard ratio [HR] = 0.58 and MarketScan: HR = 0.58).
The authors concluded, "Tdap vaccination was associated with a 42% lower dementia risk in 2 cohorts with different clinical and sociodemographic characteristics. Several vaccine types are linked to decreased dementia risk, suggesting that these associations are due to nonspecific effects on inflammation rather than vaccine-induced pathogen-specific protective effects."
For further information:
Article Source :
 The Journals of Gerontology: Series A