New born boy stolen from government hospital premises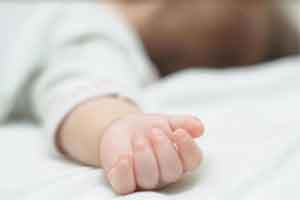 Hyderabad: A newly-born baby boy was stolen by an unidentified woman from the premises of the state-run Niloufer Hospital here, police said.
The incident took place yesterday when the two-day-old baby was brought by his grandmother to Niloufer Hospital for treatment.
The infant was born at a state-run maternity hospital in the city, said inspector R Sanjay Kumar of the Nampally police station.
In her complaint, the child's grandmother said that when she brought him to Niloufer Hospital as he had taken ill, an unidentified woman helped her with the formalities and the treatment.
Afterwards, when the old lady was leaving the hospital, the woman, who was holding the baby in her arms, said she can go and have tea.
The complainant then stepped out for tea, but when she returned, the woman and the child were nowhere to be seen.
"The baby's grandmother believed the woman to be a member of the hospital staff. Investigation is underway. We are studying CCTV footage of the premises," inspector Kumar told PTI.