................................ Advertisement ................................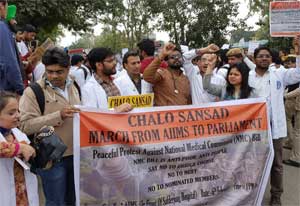 New Delhi: 10,000 Resident doctors from various government hospitals in Delhi, were seen marching across the capital to take out protest march against the National Medical Commission Bill
Resident doctors from across Delhi hospitals including  Delhi-AIIMS, Safdarjung Hospital, Lady Harding Medical College as well as outside Delhi hospitals such as  PGI Chandigarh and Aligarh Muslim University along with several other organisations today took out a protest march against the National Medical Commission Bill.The march was held from AIIMS to the Parliament House and over 10,000 doctors staged a protest opposing various provisions of the Bill that seeks to replace the Medical Council of India (MCI) with a new body.
Doctors were seen gathering in high numbers to take part in the march and show their resentment to many provisions of the bill including those that call for National Licentiate Exam and bridge course. Doctors, in particular, are opposing Bill's proposal of allowing practitioners of alternative medicines, such as homoeopathy and ayurveda, practise allopathy after completing a "bridge course".
FORDA, and AIIMS Resident Doctors Association (RDA) termed the bill as "anti-poor", "anti-people" and "unacceptable" to doctors and medical students in its present form.The Bill also proposes a common entrance exam and licentiate (exit) exam which all medical graduates will have to clear to get practising licences.The doctors have written to both the Health Ministry and the parliamentary committee to "remove" these clauses.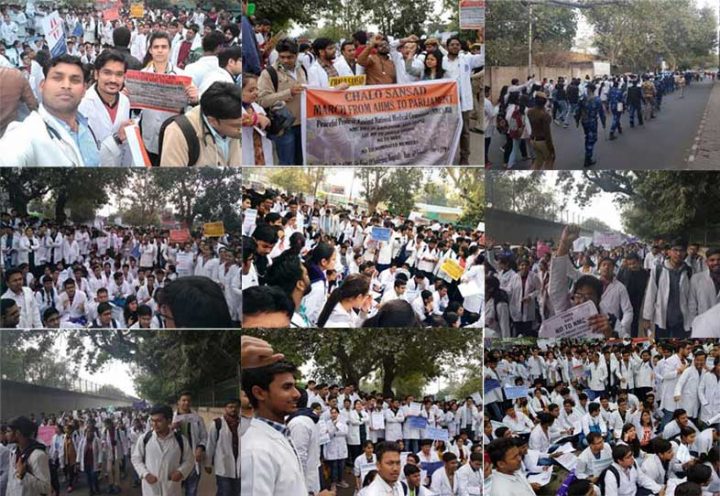 ................................ Advertisement ................................
The Bill was referred to the Parliamentary Select Committee, following protests by doctors from across the country. Doctors claimed that the proposed legislation would "cripple" the functioning of medical professionals by making them completely answerable to the bureaucracy and non-medical administrators.
Heavy police personnel surrounded as the doctors pursued their march. They were stopped at INA Metro Station, where the police detained many doctors.
Meghna A Singhania is the founder and Editor-in-Chief at Medical Dialogues. An Economics graduate from Delhi University and a post graduate from London School of Economics and Political Science, her key research interest lies in health economics, and policy making in health and medical sector in the country.
She can be contacted at meghna@medicaldialogues.in.
Contact no. 011-43720751
................................ Advertisement ................................
36 comment(s) on New Delhi: 10,000 Resident Doctors take to Streets to Protest against National Medical Commission Bill