New Delhi: Doctor robbed at Gunpoint in his own clinic, family injured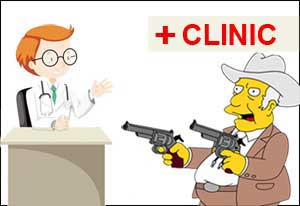 New Delhi: A medical practitioner was robbed in his own clinic at gunpoint by hooligans pretending to be patients, who looted Rs 50000 cash and other valuables and also injured his family members.
The incident was reported from Delhi's Anand Vihar, where hooligans came as patients to the clinic of Dr Piyush Jain and took the doctor and his staff hostage. His wife and daughter were also beaten badly. Later when the neighbors gathered, the robbers escaped with the money collected in the clinic as well as the doctor's mobile. Dainik Jagran reports that the miscreants broke the LED TV and CCTV camera in the clinic.
Complainant Dr Piyush Jain (52 years) lives in Rishabh Vihar, Anand Vihar with his family including his wife Dr. Radha Jain and his daughter. He has opened a clinic in the basement of his building and he resides on the floor above. On Monday night at around 10 am, he was at his clinic with his employee Mahendra, when a 40-year-old man reached a clinic with a boy. He told the boy to be ill. During the conversation, the young man took out the pistol and put it on Dr. Piyush's head. The boy then took control of Mahendra on the strength of the weapon. During this, some other boys joined the hooligans there. They threatened to kill both of them and looted Rs 50 thousand rupees, mobile phones, and other items from table drawers and pockets of the victims. Meanwhile, scoundrels broke CCTV cameras and TVs.
The miscreants then tied hands of the Doctor and two crooks went up with them to his house. As soon as the wife and daughter saw Dr Piyush in this condition, they started shouting. The hooligans also injured the two women to silence them. Luckily, listening to the noise, the neighbors started gathering outside the house forcing the accused abandoned the loot and flee the spot.
On the complaint of the victim, Anand Vihar police station is investigating the case.