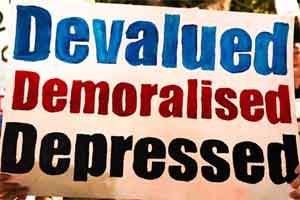 New Delhi: Desperate doctors associated with the MCD hospitals of the capital, organised a " Katora March " from MCD Civic Centre to Rajghat today. The march saw participation from other MCD employees and had more than 10,000 people protesting against the corporation as well as the government for their inaction in giving salary to the employees.
Employees of the MCD have not been paid salaries for the past three months, and have hence declared an indefinite strike
The march, saw protesting doctors walking with a empty bowl ( Katora) as if asking for alms, reflecting the dire situation the doctors have fallen into without receiving salaries for such a long duration.
Here are a few pictures from the Protest
0 comment(s) on New Delhi : MCD doctors organise Katora March