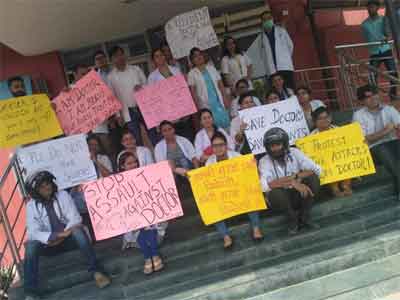 Different Geographies, same plight 
New Delhi:  15000 resident doctors across 40 government Hospitals in Delhi, called a mass leave today from 9am-4pm, showing solidarity with their 4000 counterparts in Maharashtra, who are demanding adequate protection at workplace so that doctors can work with out fear.
While emergencies were working, OPDs of these 40 hospitals apart from AIIMS, New Delhi remained shut as doctors gathered outside in the respective compounds of the hospitals, protesting to show that the issue of violence has become the one of utmost importance in a medico's life.
Touching a Raw Nerve
The move of the protest across the states has marked the growing solidarity between medical profession, while also showing how one particular issue has been plaguing the medical practitioners alike, even though they are spread far away by geography.  Estimates given by the Indian Medical Association showed that 75% of medical practitioners in the country had witnessed some form of violence during their course of practice.
Speaking to Medical Dialogues team, Dr Durga Shankar Meena, Vice President, FORDA, said, " We show full solidarity with the resident doctors protest in Maharashtra. Moreover,  I would like to add, that its not about doctors in Maharashtra or Delhi, the issue of violence has become an epidemic across all government hospitals in the country. No matter which state or city or hospital we take, the instances of violence are only increasing. Government has failed to provide adequate infrastructure to meet the growing demand of the population and its the resident doctors who face the angry wrath of the patients, as if its our fault. The least that government can do is provide adequate protection to its doctors, otherwise no doctor would join government services in the future."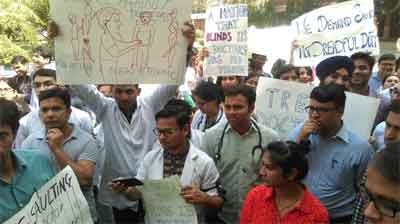 Genuine Demands, No Action
This is not the first time that government doctors have demanded protection. This is also not the first time that they have taken extreme measures to make their point. Across the various strikes over the past few years, government has always come out in acknowledgement of the issue, promising future action and increased protection.  However, the issue ( and action) soon dies down, till another violent attack which restarts the circle.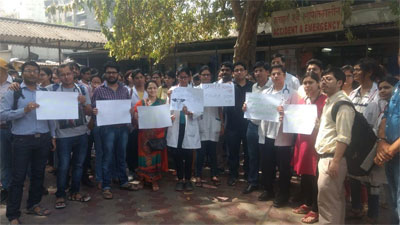 Solution- Uniform Law, Uniform Implementation
There are many laws in place dealing with the issue of violence against medical personnel as well as protection of hospital property and personnel, however, there are state specific acts and indeed, lack in implementation as is evident with the rising instances of doctors being beaten up. Currently around 18 states across the country already have such laws in place. A central government formed committee had suggested that there be a central act, applicable pan India that is in line with the various state laws to ensure addressal of the issue at a growing level.
"Till date, despite innumerable instances of violence, no conviction has taken place of the culprits. We have been repeatedly demanding a central law on the issue of violence against doctors. We have also been demanding that violent acts against doctors be made a non-bailable offence and punishment be enhanced under the said law. We hope that the government will address this issue at the earliest both in letter as well as in spirit." said Dr Pankaj Solanki, President FORDA
Private Practitioners to JOIN in
The mass leave of the doctors will not just be limited to government hospitals, as Delhi Medical Association in support of the protest of Maharashtra Doctors has announced that all its members, including doctors working at private hospitals, nursing homes and even having their clinics would refrain from going to work. Announcing the its members would not do any OPD tomorrow ( emergency, IPD still on), Delhi Medical Association President Dr Rakesh Gupta said, " The incidence of assault on doctors is rising day by day. These instances are occurring both in government as well as Private institutions. In the grab of expressing dissatisfaction regarding the medical services, patients and or relatives resort to taking law into their own hands and indulge in assault, rampage and vandalism. We strongly support the resident doctors who have been victims of such assaults in the past and as a announce that no OPD will be done by our members tomorrow"
40,000 doctors in Maharashtra and 15000 doctors in Delhi are on Mass leave opposing the rising instances of violence against doctors and demanding increased protection from the government 
9 comment(s) on New Delhi: Doctors on mass leave, private practitioners to join in