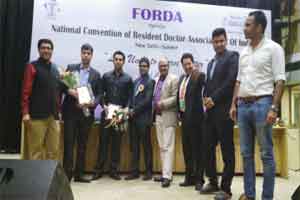 " We don't want Strikes, we want Solutions"
Federation of Resident Doctors Association, the organisation representing more than 15000 resident doctors associated with all government hospitals in delhi, organised the first of its kind, resident doctors convention at Maulana Azad Medical college on Sunday, 21st February, 2016. The theme of the conference was "Lets unite to serve better."
The event saw participation from more than 500 resident doctors spread across 35 government hospitals in the capital, as well RDA representatives from across different states of the nation, including Karnataka, Punjab, Haryana, UP etc. The resident doctors united and held discussions on common issues, including Doctors Protection Act, Central Residency Scheme, Same pay for same work ( see attached file for details of the issues).
The chief guest of the event was, hon. Health Minister of Delhi, Shri Satyendra Jain and the event also saw presence of eminent guiding forces in the Medical Fraternity.
The event saw a frank and open discussion between the resident doctors as well as the honourable minister, with resident doctors of each government hospital of the capital pointing the day to day issues and discrimination faced by them. The minister has promised to look into the issues of resident doctors, asking FORDA to regularly apprise the minister of the developments.
The delhi government is soon going to launch a salary plus incentive scheme for doctors who work overtime in government hospitals. The minister also announced the plan to a 50% quota in DNB seats in the capital for doctors working in government hospitals.
Speaking on the occasion Dr Pankaj Solanki, President FORDA and organiser to the event said, " Unfortunately, resident doctors today, are one of the most exploited section of the society, with long working hours, less pay, lack of basic amenities. On top of this, we have increasing instances of violence against doctors that make them so emotionally weak that they immediately react by resorting to strikes. WE took this opportunity to clarify that no doctor wants to go on strike, but are forced circumstantially to do so. With this convention we have provided a platform to all government doctors, to apprise the minister of their problems, so that amicable solutions are obtained, and no strikes happen in the future."
Dr Sudhindra, President, Karnataka Association of Resident Doctors said, " Although all of us are working in different states run by different administrations under different governments, yet the basic issues and the plight of resident doctors seem to be common. This convention, with hopefully more conventions like this would provide a platform for all resident doctor of the country to unite for a common cause."
Here are some pictures from the event
0 comment(s) on New Delhi: First Resident Doctor Convention organised