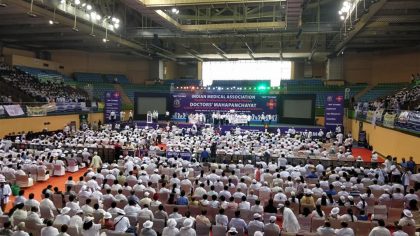 New Delhi: Protesting against the impending National Medical Commission bill, doctors under the banner of Indian Medical Association held a mahapanchayat at New delhi's Indira Gandhi Stadium
Doctors under the banner of Indian Medical Association protest against the National Medical Commission (NMC) bill in #Delhipic.twitter.com/mRvhqKMNgo

— ANI (@ANI) March 25, 2018
The bill, which seeks to replace and subsume the Medical Council of India (MCI) with a new body, was tabled in the Rajya Sabha in January by Union Health Minister J.P. Nadda.
"The bill, which has the potential to adversely alter the course of medical education and healthcare delivery in India, will also make irrevocable damage if passed in its current forms," IMA's General Secretary Dr R N Tandon had said.
IMA, which is the largest association of doctors, and has over 1,725 local branches across the country and has held simultaneous yatras across the country to generate awareness among masses. The association has around 3 lakh members.
Doctors under the banner of IMA are opposing various classes of the bill including bridge course, National licentiate exam as well as freedom for medical colleges to fix their fees to a large extent. Thousands of doctors were seen gathering at the stadium today to show their opposition to the bill
"If the bill is incorporated with such liberal provisions, it will only end up with half-baked and ill-equipped medical practices which will put the health of Indian population at stake," Dr Vinay Aggarwal, former president of IMA, had said.
According to the bill, practitioners of Ayurveda, Yoga and Naturopathy, Unani, Siddha and Homoeopathy, can practice modern medicine once they complete a short-term "bridge" course.
The bill is also aimed at bringing reforms in the medical education sector which has been under scrutiny for corruption and unethical practices.
However, the IMA has termed the bill as "draconian and undemocratic" and called for its withdrawal.
3 comment(s) on New Delhi: IMA holds Mahapanchayat at IG Stadium, Thousands participate