New Delhi : Intricate kidney and liver transplant conducted at Fortis hospitals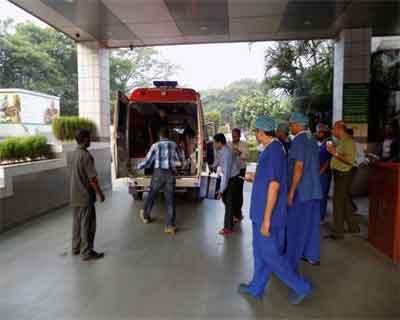 Delhi : Fortis Escorts Kidney & Urology Institute and Fortis Memorial Research Institute conducted two intricate transplants recently on two patients out of four who received organ donations from the family of a road traffic accident victim.  The patient had been brought in at Fortis Hospital Vasant Kunj on 6th June 2016.
The first surgery was an open kidney transplant conducted on Sanjeev Khera, a 48 year-old male from Delhi. Sanjeev had been suffering from stage five chronic kidney disease with a history of diabetes and hypertension over the past four years. The surgery for kidney transplants conducted by the team at Fortis Escorts Kidney & Urology Institute took just one hour.
Dr Feroz Amir Zafar, Consultant, Urology & Renal Transplant Surgery, Fortis Escorts Kidney & Urology Institute said, "In a regular open surgery for kidney transplant, we take the kidney from a live donor and the time taken to retrieve the kidney and conducting the transplant is very less. However, if the kidney is coming from a deceased donor, certain unavoidable risks and delays are involved. In this case, with a family history of diabetes no one in the family was able to donate the organ. We were also not very sure if his diabetic condition will allow the new organ to perform. But effective time management, helped us conduct the transplant in one hour and within 48 hours, he was shifted to the ward.
The patient, Sanjeev Khera, recipient of the kidney shared, "I had almost no hope of getting a new kidney as diabetes runs in my family. Doctors had told me that either I prepare myself for a long wait for a donor kidney or opt for regular dialysis. I am so grateful to the donor family and the doctors who gave me a new lease of life".
Alok Badola, the second patient, 47 years, underwent a liver transplant at the Fortis Memorial Research Institute, Gurgaon. Badola, a resident of Dehradun, was suffering from liver cirrhosis after he contracted jaundice twice in the past six months. His wife had offered to donate a part of her liver but was deemed unfit due to a mismatch. Badola's deteriorating condition with each passing day was in urgent need of a transplant.
According to Dr Anupam Saha, Director, Liver Transplant & Hepato-Pancreato  Biliary & GI Surgery at FMRI, Gurgaon, "When we shortlist a patient for transplant, it becomes important that the patient has been evaluated thoroughly. According to studies world-wide, the chances of survival for a liver transplant patient in 15 years post-transplant is as high as 60%. This is owing to the fact that a liver transplant patient requires minimum dosage of immunosuppressants as compared to other organ transplants. This is because liver as an (donated) organ has the inherent tendency to fight rejection even when in a foreign body."
Speaking about what could possibly go wrong during or immediately after a liver transplant, he added that the most common is a technical complication arising due to incorrect joining of blood vessels which could lead to the "death" of cells of the transplanted organ. The second could be excessive bleeding due to innumerable small and big blood vessels connected to the liver and the third, a condition where the donated organ is unfit as in the case of a fatty liver disease when a transplant could possibly fail," said Dr Saha.
An overwhelmed Alok said, "My parents and I wish to personally meet the donor's parents and family members to thank them for their generosity and benevolence. I too wish to pledge my organs for donation if I can save someone's life".