New Delhi: Largest training Session on Musculoskeletal Ultrasound held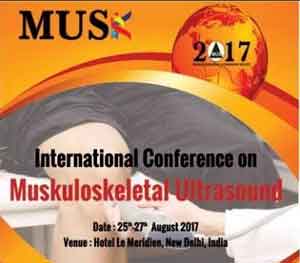 New Delhi: The Muskuloskeletal Ultrasound Society of India (MUS) recently held the country's largest   International Conference on Muskuloskeletal Ultrasound 2017 at Hotel La Meridien, New Delhi, India. The conference saw participation of leading 20 top international faculties as well as national faculties who gathered at the capital in order to apprise and train medical practitioners in the use of Musculoskeletal ultrasound
Through the medium of the congress, MUSK 2017 aimed to empower the 400 participating radiologists, orthoepedicians as well as general practitioners in the modality of musculoskeletal ultrasound. The conference saw hands on training being conducted at both basic as well as advanced level with a total  30 Hands on workshops (4 hours) each day being conducted. Variety of topics pertaining to the modality of MSG USG on different parts of the body including shoulder, knee, all  six joints etc were covered.
Speaking to Medical Dialogues, Organizing chairperson of MUSK 2017, Dr Nidhi Bhatnagar said, "Our efforts are to bring home the message of Musculoskeletal ultrasound being a dependable modality needs continual attention. Honing the skills of already practising Radiologists and taking it further amongst the masses remains one of the primary Objectives of Muskuloskeletal Ultrasound Society.  This International Conference is an attempt to train medical practitioners in the country, empowering them to perform MSK USG, specially in emergency situations. "
Dr Bipin Shah, President MUS said " Radiologist, who is busy in dealing with Obstrectic and Abdomen ultrasound, is often found wanting in the understanding of predominantly soft tissue injuries. An attempt has been made by us to provide an insight into the special needs to train radiologist to look at these soft tissue injuries. MSK imaging today goes are beyond radiographs. In recent times, MSK ultrasound imaging has grown to become the primary imaging modality for soft tissue injuries when plain x-ray are normal. The need of the hour is to train radiologist to develop expertise in scanning technique and understanding pathologies in Muskuloskeletal injuries. For radiologist, more tools available to image MSK system, the more Muskuloskeletal pathology can be effectively diagnosed."