New Delhi: MCD doctors continue to strike for the 4th day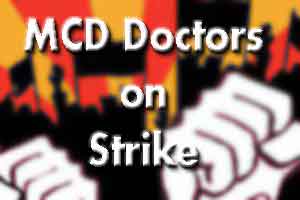 New Delhi: With the doctors strike of Hindu Rao Hospital in Delhi moving into 4th day, there seems to be little response from the MCD authorities. The resident doctors have been on a mass bunk from work owing to pending salaries, some of which have been not paid for the past three months.

Similar case exists in other MCD hospitals of the Capital, including Kasturba Hospital and Swami Dayanand Hospital whose doctors have also declared a strike against the MCD authorities. However, the authorities are still maintain that MCD is incapable of paying salaries to hospital doctors and staff. And as a result, doctors are also maintaining that the strike will continue till their demands are met.

The striking doctors are even more agitated given the fact, despite their strike for the past three days, no one from the authorities has responded to them.

Many resident doctors sitting at the strike have complained that without their salaries, they have not been able to pay their rents and run their households. A few, who had purchased cars and other hoursehold items on EMI have now started to default.

Dr Pankaj Solanki, President FORDA said " This is gross injustice being done towards the resident doctors. How can one expect doctors to keep on doing their work, if they are not being paid. Even doctors have families to feed."

FORDA, the resident doctors association of the capital has declared that all resident doctors across government hospitals will wear black bands  to show their solidarity towards the striking doctors at MCD hospitals.

Meanwhile, the doctors at MCD hospitals are going to run parallel OPDs in view of the poor patients.

" We are making our point clear to MCD that we want our salaries and cannot be kept in the dark as always. Yet for the benefit of our patients, we are going to run parallel OPDs at the hospitals. Our seniors are also supporting us through a pen down strike." Said Dr Deepesh from Hindu Rao hospital.

Representatives of FORDA also met the health minister of Delhi, Mr Satyendra Jain today who has assured early intervention in the matter to help the healthcare professionals at MCD hospitals.