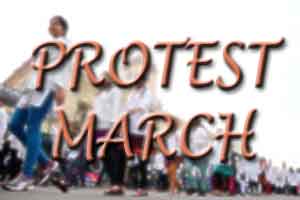 New Delhi: Resident doctors working in various MCD hospitals across the capital have organised a protest march in participation with other MCD employees including nurses, paramedical staff, teachers and various other employees working with MCD. This comes after Municipal Corporation of Delhi has not paid salaries to its employees for the past three months and further disbursement is also seeming less likely owing to the answer of the authorities that MCD has run out of funds.
Speaking to Medical dialogues, Dr Ashish Jain, RDA President, Swami Dayanand Hospital said, " In the past one month, doctors of MCD are being made to move around in circles between the MCD authorities and the Delhi government. MCD has a response that they have run out of funds as the Delhi Government has not released sufficient funds to them, while the Delhi government has  response that it has already given the funds to the MCD, so how can they run out. We even went on a strike last month, but have only received false promises in return. We have even knocked the doors of the court as well as NHRC but are still waiting for a response."
Dr Aditya Gupta, RDA President, Hindu Rao Hospital said, " We are slowly becoming desperate as both MCD and Delhi government have turned a blind eye against all MCD employees including doctors, who are considered to be the highest skilled personnel in the country. Due to our desperation, we are now resorting to these measures to let our voice heard."
The March which is currently going on at the moment, has more than 10,000 MCD employees participating in it, and is heading from MCD Civic Centre to Jantar Mantar. It is seeing participation from employees of various hospitals and maternity centres under MCD across the capital, including Hindu Rao hospital, Swami Dayanand Hospital, Kasturba Hospital and many more.
Here are some pictures from the Protest March
0 comment(s) on New Delhi: MCD doctors organise protest march over Salary Issue