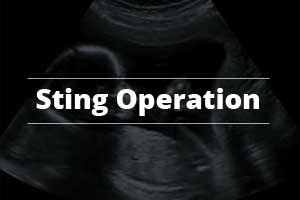 New Delhi: A radiologist, owner of a West Delhi Hospital, has been recently caught red handed while performing ultrasound on a patient and disclosing the sex of the foetus.
The sting was performed as a joint operation between Delhi PC-PNDT team under Dr Satyajit and Sonipat district team under Dr Adarsh. Both teams met in Rohini and a decoy pregnant patient from Sonipat was sent to a clinic in Barwala. There she was met by two touts, who took her to Sarthak Hospital.
The authorities, following the patient, waited within the hospital premises as the patient was getting ultrasound in the USG room. It is reported that at the hospital, Dr Vishwajeet Sharma, radiologist, performed an ultrasound on her, disclosing the sex of the fetus by saying  negative.
The authorities soon went inside the room, catching the doctor red handed, recovering Rs 6000 in pre-matched currency notes from him. Another Rs 10,000 were then recovered from one tout, and Rs 2000 from the other.
Dr Satyajit Kumar, State program officer, ( PC-PNDT) Delhi, informed Medical Dialogues team" We caught the doctor red handed, performing ultrasound on the patient, without filling the Form-F and disclosing the sex of the foetus. After the scrutinization of documents it was observed that ultrasound register was not maintained after 27/ 05/ 2017. The pre-matched currency of Rs 18000 has been seized from the mediators and doctor and one ultrasound machine has been sealed."
FIR  has been lodged at local at the local police station with the concerned Officer Authorized DAA North West against three mediators and Dr.Vishwajeet Sharma, owner of Sarthak Hospital
3 comment(s) on New Delhi: MD Radiologist caught in PC-PNDT sting