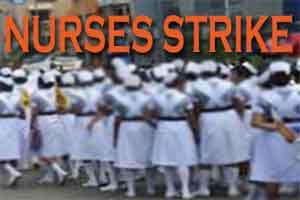 New Delhi: Health care facilities of the capital came to a standstill , as nurses across the government hospitals of the capital have declared a MASS LEAVE as a part of token strike today
The mass strike under the banner All India Government Nurses Federation ( AIGNF), comes in opposition of recommendations of the 7th Pay Commission, which according to the nurses, have neglected the their demands and made recommendations that have been detrimental to the nursing community. Sister GK Khurana,   Secretary General AIGNF informed Medical Dialogues that the federation has demanded that entry pay grade for staff nurse should be 5400 GP, PB -3 (Pre revised), and other allowances as per the memorandum given and supersede the disparity between ANS & DNS and ANS should be applied on 5400 GP,PB-3(Pre Revised) and DNS should be applied on 6600 GP, PB-3 (Pre revised ).
The nurses union, which has been seeing support from all  government hospitals nurses in the capital as well as those from other states, including prestigious institutions of PGI Chandigarh, had gone on a relay hunger strike from Feb 12 till today in support of their demands . Failure of any response from the Centre has forced the nurses to declare a mass leave as a token strike today.
The nurses were protesting at Jantar Mantar today as a part of their token Strike. Speaking to Medical Dialogues, Nurse GK Khurana said, " Nurses form 66% of the total population working in government hospitals today. We have been running after the government since December,2015 to highlight our demands and injustices done to the nursing staff in the 7th pay Commission. We then held a relay hunger strike, but still got no response from the government. Today we did a token strike. If the government still does not responds to our demands, we are going to go on an indefinite strike form March 15th, 2015."
Other demands of the organisation include
All India Federation of Government Nurses highlighted other key demands, namely-
Nursing allowance should be enhanced by 7800 in 7th Pay Commission 
 Uniform & washing allowance should kept separate as previous and enhanced further.
Risk allowance should be given to Nurses in R1H1 matrix
Night duty allowance should be given to all nurses as it is given to all other government employees.
Qualification allowance should be continuing as previous with enhancement.
Operation Theatre/Intensive care unit / special area allowance should be continuing as previous with enhancement.
Railway Nurses should be given 8 days off/ month as all other nurses which is presently getting only 4 days off/ month. This disparity should be cleared with railway nurses.
Non practising allowance should be started for nurses.
Full Pay during child care leave should be given as previous in both years of child care leave.
Similar post and nomenclature should be given for all nurses in group-b in each & every ministry & department in India.
Field, Convenience& Telephone allowance should be given to Public health nurses.
0 comment(s) on New Delhi : Nurses go on mass leave , healthcare comes to a standstill