................................ Advertisement ................................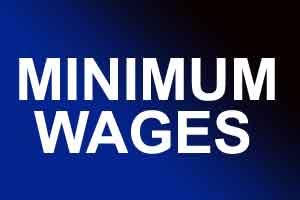 New Delhi: The delhi government has initiated probe on 35 government hospitals after claims have come out that these hospitals are not the paying the desired minimum wage to contractual employees in the outsourcing services, as laid down in the Labour Act
These services primarily include those of
sanitation, house-keeping, security, peon, data entry, kitchen and management services, laundry, vehicle parking, and chemist work, which are being outsourced in the government hospitals.
Daily Mail reports that the irrelgularities and the non-payment of dues has amounted to the tune of Rs 100 crores.
Even after repeated orders from the labour department and previous health officials, the hospitals have not paid the desired minimum wages to the employees.
"The government has expressed grave concern over the irregularities in the non-payment of the minimum wages to the contractual employees. Most of the hospitals are not paying the desired minimum wages to the employees," a senior government official told Mail Today. 
"As a result, the contractual employees are being exploited. Innumerable letters have been written by the labour department as well as the health department, but nothing was done till now. But now, the health department has become active in finding the irregularities," the official added.
Taking serious cognizance of the issue, a special committee has been constituted by the DGHS to look into the matter
It is reported that health department has issued notices to all 35 hospitals
asking for a status report on their compliance with minimum wage norms. Sadly only a few hospitals have responded.
"Many of them have still not responded. The committee will have a meeting and  decide on the action to be taken against them. Few of the hospitals have agreed to their past mistakes and have decided to comply with the rules with immediate effect," a senior health officer told Mail Today. 
Recently, a security service in the Directorate of Health Services (DHS) has been blacklisted after Delhi health minister Satyendra Jain found out that the security service company was charging Rs 7,500 from the employees in the name of the government.
"The security service company was immediately blacklisted. Before paying salaries to the employees, they were charging money from them," a senior government official said.
................................ Advertisement ................................
Meghna A Singhania is the founder and Editor-in-Chief at Medical Dialogues. An Economics graduate from Delhi University and a post graduate from London School of Economics and Political Science, her key research interest lies in health economics, and policy making in health and medical sector in the country.
She can be contacted at meghna@medicaldialogues.in.
Contact no. 011-43720751
................................ Advertisement ................................
0 comment(s) on New Delhi: Probe on 35 Delhi Hospitals for not paying minimum wages