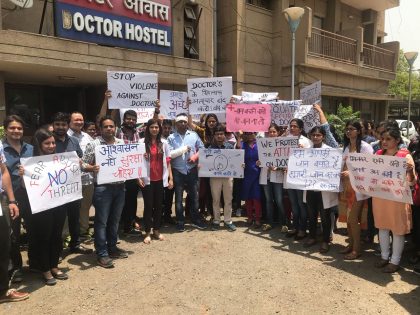 New Delhi: In yet another incident, a Mob assaulted the resident doctors as well as senior doctors at the Sanjay Gandhi Memorial Hospital here, following the death of an eight month old child in paediatric ward. The assault took place inside Deputy Medical Superintendent's office.
The child had died on 27th May 2018 and it was alleged by the child's kin that the doctor did not provide treatment to the child. An enquiry committee was set up to find the out the facts of the case and was holding a meeting in the deputy Medical Superinterdent's office, looking into the matter.
During the committee proceedings, the committee called the doctor (SR on duty) to know his version of the facts. Meanwhile, around 10-15 persons including ladies from the local committee barged into the DMS office and attacked the resident doctor.
The mob then started abusing and manhandling the committee members and the senior residents and beating them severely. The furniture of the office were also broken.
The Institutional FIR filed by the MS, Dr PS Nayyar pointed out that this was apart from a case of assault but also interfered with the working on on-duty government officers
" As it is difficult to work in such a hostile environment you are requested to provide police protection to the hospital staff" the FIR added.
Meanwhile, doctors at the hospital have called have gone on an indefinite strike in protest against a brutal assault on doctors, demanding arrest of the culprits. Even the OPD and Emergency are non functional.No arrests have taken place till now
13 comment(s) on New Delhi: Residents, Senior doctors assaulted by Mob inside Dy MS office