New Delhi : Safdarjung Hospital withdraws controversial order of VVIP treatment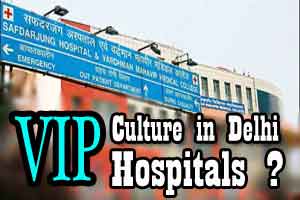 New Delhi: Soon after taking out an order asking the hospital staff to accord " Priority Treatment" to certain group of "VVIP" patients, the authorities at Safdarjung Hospital took out another order to withdraw the previous one
The initial order had come out on March 2, 2016 had specifically mentioned that- "Doctors are requested to attend to VVIP patients, referred from the medical superintendent's office on a priority basis and report back to the undersigned immediately."The order further is reported to have implied according "priority treatment" to patients referred by the ministers, bureaucrats.
As soon as the order was out, it was met by strong opposition from the Doctors, staff as well the media, who accused the Central Government to promote VIP culture in its hospitals in the capital. This, indeed, came out in sharp contrast to the measures currently being announced by the Delhi government in removing the said VIP culture from Delhi Government Hospitals.
Read Also: 
No VIP culture in Delhi government hospitals, says Satyendra Jain
"This is the first time that such order has come out in writing. Generally, this is an unwritten rule which everyone follows. But this time, they have made it official. Now, we will have to somehow focus more on the VVIP patients if we get a choice," a senior doctor from the hospital told
Mail Today.
The reason for this order is rumoured to have been a tiff between the medical superintendent and some senior doctors of the hospital is said to be the trigger for this order. "Various doctors do not treat the patients referred by the medical superintendent due to which the MS was being questioned and pulled up regularly. He has officially communicated to the doctors to follow his orders," a senior doctor from the hospital said.
As reported by Mail Today, there are around  8,000-10,000 patients coming to the hospital on any given day, which includes around 15- 20 VVIP and VIP patients from various parts of the country. From bureaucrats to top officials in health and family welfare department, every one approaches the hospital for better treatment.
Soon after the reports of the media, the Ministry of Health and Family Welfare sprung to damage control mode, which later saw the Hospital authorities withdrawing the previous order.