New Delhi: Sunder Lal Jain hospital, Orthopedicians fined Rs 25 L for medical negligence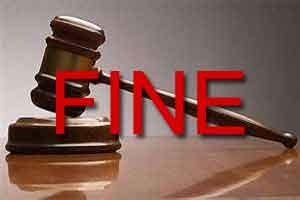 New Delhi:  The Delhi consumer commission has directed a private hospital and two orthopaedics to pay Rs 25 lakh as compensation to a patient who had suffered 40 per cent disability on his left leg due to medical negligence.
The commission directed Sunder Lal Jain Hospital at Ashok Vihar Phase III in North Delhi, to pay Rs 15 lakh to Lalit Sayal who approached them after suffering a fracture in his leg in November 1993.
It also asked the two orthopaedics who had treated the Ashok Vihar resident, to pay Rs five lakh each for negligence which had caused 40 per cent disability.
"Medical negligence has resulted into permanent disability of left leg and the complainant had undergone treatment for over 23 years and as per him he is still under continuous treatment by way of dressing etc," a bench of President Justice Veena Birbal and member Salma Noor said.
"There was a loss of earning to him also. The disability has affected his future earning also. Considering the overall facts and circumstances, we award a total amount of Rs 25 lakh to the complainant," it said.
Sayal alleged that after applying a plaster over the fracture, he felt severe pain in his left limb and gradually, experienced loss of sensation in the foot, toes and other parts as if his muscles and nerves were being strangulated.
The complaint said that on February 28, 1994, Sayal got admitted at Ram Manohar Lohia (RML) Hospital where several tests were conducted and he was examined by eminent experts.
It was alleged that the doctors view at RML Hospital was that due to wrong surgical practice and procedure, the condition of the fractured leg had deteriorated to such an extent and a major part of the left limb had to be amputated.
"The complainant had suffered a fracture in the left leg which could have been cured permanently by standard medical practice and care but the aforesaid opposite parties (hospital and the doctors) have handled the same in an negligent manner due to which complainant had to suffer a lot and is still suffering," the bench observed.
The hospital's counsel claimed there was no deficiency on their part and alleged that it was a false complaint.
"The evidence on record shows that first operation of fixing metal plate was conducted on the fifth day of the fracture and no explanation has come as to what was the urgency of conducting the operation when the complainant was already having swelling in the leg," the commission observed.
The Commission, after considering that the injury was sustained in 1993 and had undergone continuous treatment for years and suffered permanent disability, awarded Rs 25 lakh to Sayal.
To read the full Judgement, click on the following link;
http://cms.nic.in/ncdrcusersWeb/GetJudgement.do?method=GetJudgement&caseidin=8/0/CC/285/1996&dtofhearing=2016-09-21