Health Ministry gives breakup of Oncology seats in India to Parliament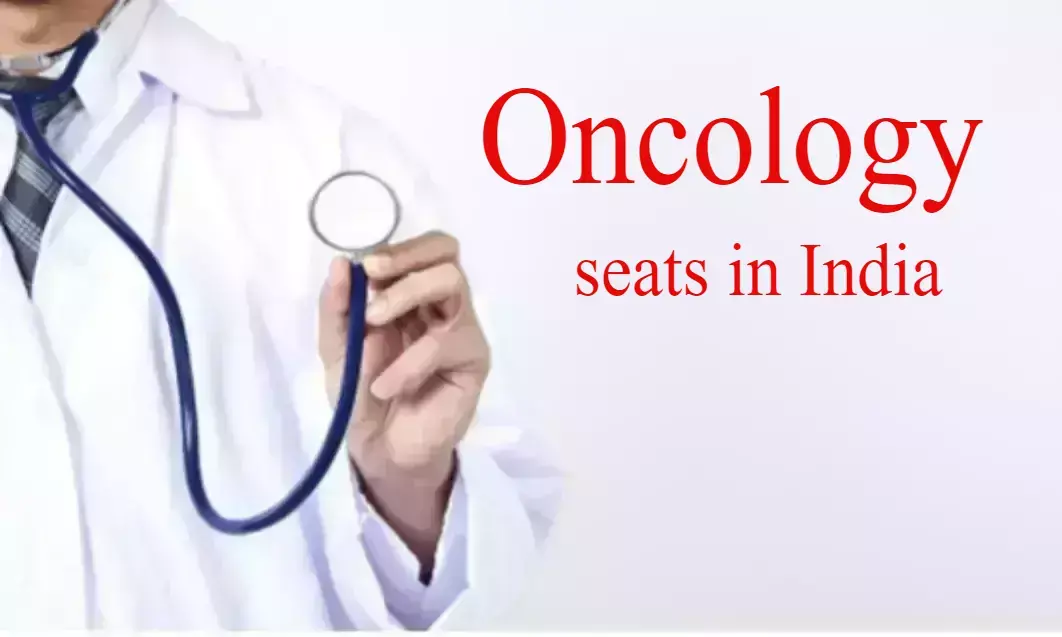 New Delhi: Currently, there are a total of 958 seats in the country offering PG medical training at Broad Specialty and Super Specialty level with different Oncology related specialisations.

The information to this effect comes from the data shared by the MoS Health Dr Bharati Pravin Pawar before the Parliament during question hour.
The minister was asked to present the data on the number total number of Oncologists (including Radiation, Surgical, Medical) in public health institutions across India along with their specialisation, category wise. The information on the total number of Oncologists could not be provided by Dr Pawar. In her justification, she notified the parliament that as per the apex medical regulatory body of India, the National Medical Commission (NMC), data on the number of Oncologists are not maintained centrally.
However, the minister shared the total number of seats allocated for Post Graduate training in Oncology is provided at Broad Specialty and Super Specialty level with different Oncology related specialisations.
As per the data, a total number of 958 seats in DM and MCh Oncology related specialities are being offered in the medical institutes in India at present.
The maximum number of seats are available in the PG medical speciality of MD Radiotherapy/Radiation Oncology, followed by MCh in Surgical Oncology with 176 seats and DM Oncology with 139 seats.
In a drastic difference in seats for further courses, DM Onco-Pathology comes next with 15 seats and DM Paediatric Oncology with 13 seats.
6 seats are available in DM Paediatric Pulmo-Oncology & Intensive Care, followed by 4 seats each in DM Radiation Oncology, Head & Neck Neuro and DM Radiation Oncology Urogenital & Gym.
The super-specializations in DM Onco-Anaesthesiology & Palliative Medicine, DM Palliative Oncology and DM Radiotherapy & Oncology have 2 seats each, whereas DM Preventive Oncology has only 1 seat.
| | | |
| --- | --- | --- |
| S.No. | Name of Course | No. of Seats |
| 1. | DM(Oncology) | 139 |
| 2. | M.Ch. (Surgical Oncology) | 176 |
| 3. | MD (Radiotherapy/Radiation Oncology) | 594 |
| 4 | DM (Onco-Pathology) | 15 |
| 5 | DM (Onco-Anaesthesiology & Palliative Medicine) | 2 |
| 6 | Dm (Palliative Oncology) | 2 |
| 7 | DM (Paediatric Oncology) | 13 |
| 8 | DM (Preventive Oncology) | 1 |
| 9 | DM (Paediatric Pulmo-Oncology & Intensive Care) | 6 |
| 10 | DM (Radiation Oncology, Head & Neck Neuro) | 4 |
| 11 | DM Radiation Oncology (Urogenital & Gym) | 4 |
| 12 | DM (Radiotherapy & Oncology) | 2 |
| | TOTAL | 958 |
Replying to the question of whether the Government has recognised any deficit in the number of Oncologists especially Radiation Oncologists and giving details on the steps taken by Government to bridge this gap including improving medical education in the country for Oncologists, the minister listed down the following:
Government has taken various steps to increase the availability of doctors and faculty in medical institutions in the country which include:
i. Centrally Sponsored Scheme for establishment of new medical college by upgrading district hospital in underserved districts of the country. Under this scheme 157 new Government Medical Colleges have been approved across the country in three phases out of these 70 have been made functional.
ii. Centrally Sponsored Scheme for strengthening/ upgradation of existing State Government/ Central Government Medical colleges to increase MBBS and PG seats
iii. Central Sector Scheme for upgradation of Government Medical Colleges by construction of Super Specialty Blocks. A total of 75 projects have been approved and 53 have been completed.
iv. Under Central Sector Scheme for setting up of new AIIMS, 22 AIIMS have been approved. Undergraduate courses have been started in 18 AIIMS.
v. Relaxation in the norms for setting up of Medical College in terms of requirement for faculty, staff, bed strength and other infrastructure.
vi. DNB qualification has been recognized for appointment as faculty to take care of shortage of faculty.
vii. Enhancement of age limit for appointment/ extension/ re-employment against posts of teachers/dean/principal/ director in medical colleges upto 70 years.