JIPMER informs on reselection of Exam city for MD, MS, MDS, PDCC, PDF, Courses July 2020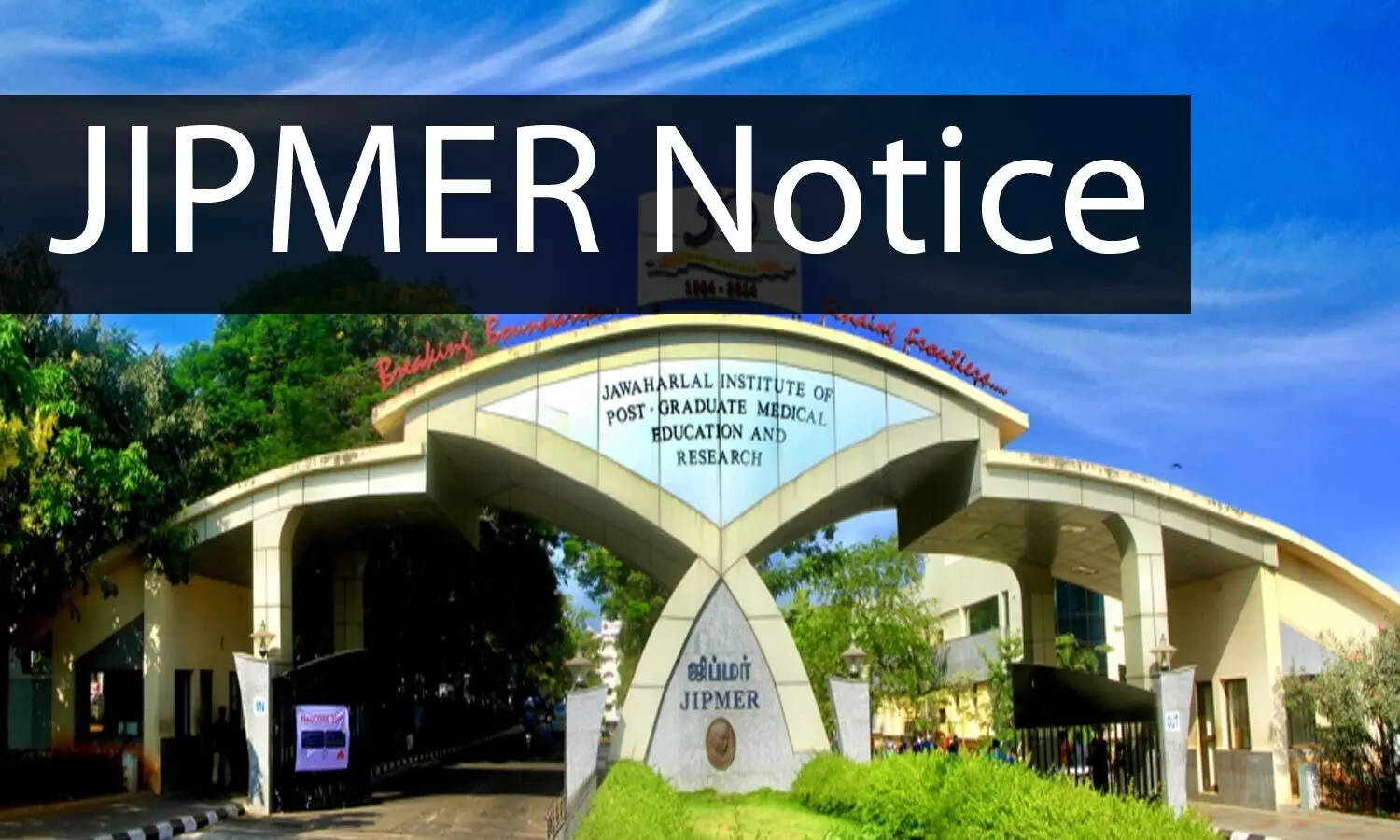 Puducherry: Through a recent notice, the Jawaharlal Institute of Postgraduate Medical Education and Research (JIPMER) has informed about re-selection process of the examination city for upcoming examinations of MD, MS, MDS, PDCC and PDF courses July 2020 session.
The candidates who are set to appear in these examinations are requested to view the below-mentioned details of the said notice issued by the JIPMER on its official website:
In view of the evolving COVID-19 outbreak and issues related to travel restriction and social distancing, the competent authority of JIPMER has decided to increase the number of examination cities/centers to minimize the travel need for the candidate.
All Eligible candidates can log in and re-select the city for examination from 23-05-2020 to 28-05-2020 by 05.00 PM at the JIPMER website. For candidates who do not re-select the examination city during the above schedules, their earlier choice will be considered.
The city for examination shall be allocated on the basis of the order of application form, candidates' choice, and availability of computer nodes. Efforts shall be made for all candidates to minimize the need for travel.
The decision of JIPMER, Puducherry in this regard will be final and no further correspondence will be entertained in this regard.
The Hall Ticket can be downloaded from 06-06-2020 Onwards
The Entrance Examination to be held on 21-06-2020 (Sunday)
If any query, contact Helpdesk
Contact No.: 0413 — 2298288 (Direct Line) 0413 — 2272380 : Extn.: 8573
The Applicants are advised to check the JIPMER website periodically for further information.
https://medicaldialogues.in/pdf_upload/pdf_upload-129423.pdf
JIPMER had earlier informed regarding its decision on the upcoming examinations of UG, MSc, MPH, MD, MS, DM, MCh and PDF courses.
1. All Undergraduates: Final exams (theory/practical) are postponed till furthers orders considering the prevailing lockdown conditions all over the country. All students are advised to keep checking the JIPMER website for future advisory.

2. MSc and MPH Courses:
a. MSc courses (Medical Physiology, Medical Biochemistry, MLT Pathology, MLT Microbiology, Neurotechnology): Theory /Practical final exam for will be held tentatively in June 2020.
b. MPH, MSc Biostatistics and MSc Nursing: Theory and Practical exam will be held as per schedule in July 2020.
Students are advised to visit the JIPMER website for the revised exam schedule.
3. MD/MS/DM/MCh/PDF Courses: Theory and Practical exit exams are proposed to be held after 15th July 2020. The dates are likely to be revised and will be intimated later according to the notifications issued by Govt. of India.
Jawaharlal Institute of Postgraduate Medical Education and Research (JIPMER) can trace its origins to the 'Ecole de Medicine de Pondicherry' established by the French Government in 1823. In 1956 foundation for new medical college was laid and in 1964, the hospital was inaugurated. JIPMER became an institution of national importance under the Ministry of Health and Family Welfare, Government of India in the year 2008. It is an institution established for teaching, research, and patient care in the area of health. JIPMER spreads over 192 acres. The institution houses one administrative block, one academic center, one nursing college, seven hospital blocks, seven accessory services buildings, and four residential complexes. 12 broad types of medical, nursing, and allied health science courses covering all disciplines in healthcare from basic to super specialty training are conducted.
JIPMER is one among the very few institutions in the country which is providing teaching from undergraduate to super specialty & sub-specialties, conducting path-breaking research and providing specialty care of high order. The model of providing free specialty health care while maintaining quality and safety makes JIPMER a unique model in the country. JIPMER's success in providing the best treatment even to the least affordable in the society makes it a model of specialty care delivery of the future. JIPMER continues to rank among the top best five medical schools in the country. JIPMER is witnessing expansion in the form of new campuses like JIPMER Karaikkal, JIPMER outreach centre at Yanam apart from the soon to be commissioned screening OPD block and super speciality Extention block. Conceptual plans for Puducherry's second campus for the Institute of organ transplantation and Institute of advanced trauma and rehabilitation were initiated during this period.
Read also: Upcoming Theory, Practical Exams 2020: JIPMER Issues Notice