MBBS Counselling 2020: MCC issues clarification On Offline Surrender Of AIIMS Candidates Seats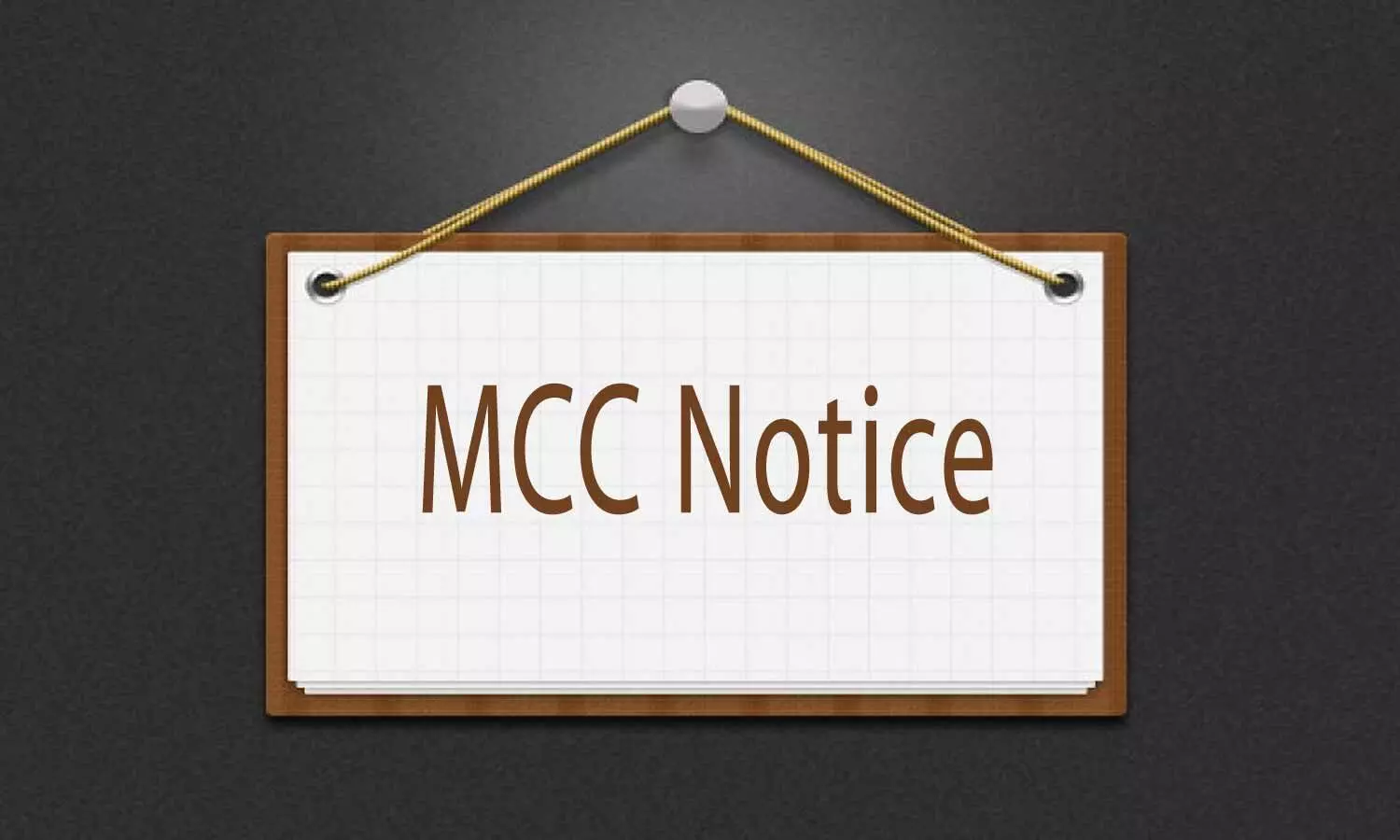 New Delhi: Through a recent notice, the Medical Counselling Committee (MCC) has issued a clarification on the Offline Surrender of AIIMS Candidates' seats who were admitted in Round 2 NEET AIQ Counselling 2020 for MBBS Admissions this academic year.
Earlier, the counselling authority has informed about the surrender of seats of AIIMS candidates. The MCC had said that the seats of these candidates who were admitted in Round-2 of All India UG Counselling, 2020 conducted by MCC stand Surrendered. "Therefore, these candidates are not part of the Joined candidates list published by MCC after completion of Round-2 of All India Counselling (for AIQ/ Central/ Deemed Universities/ AIIMS & JIPMER) and are free to participate in their respective State counselling."
In this regard, clarification is now made that the 03 candidates (as mentioned in the notice attached below) were admitted in Round-1 of UG Counselling 2020. They were not upgraded in Round-2 and had surrendered their respective seats within the stipulated time i.e till 02.12.2020.
However, the colleges could not enter the names of these candidates on intramcc portal therefore, they were shown to be part of Joined candidates list.
It is further informed that the below-mentioned candidates are not part of joined candidates list, published by MCC.
To view the official notice and the list of AIIMS candidates, click on the following link:
https://medicaldialogues.in/pdf_upload/pdf_upload-143976.pdf
Earlier, the MCC had notified about the reporting of MBBS candidates allotted at certain AIIMS branches to other institutes for completion of admission formalities.
As per the information received from AIIMS, Delhi and respective institutes please take note of the following regarding Reporting:

S/ No.

Candidates who have been allotted seats at AIIMS Institutes in Column- I will report at AIIMS Institutes in Column- II for completion of Admission formalities.

COLUMN- I

COLUMN- II

1.

AIIMS, Guwahati

AIIMS, Bhubaneswar

2.

AIIMS, Bilaspur, Himachal Pradesh

PGI, Chandigarh

The following are the details of Nodal Officer

PGI, Chandigarh

Mr. Rajneesh Anand, Sr.Administrative Officer Academic Branch

PGIMER , sector 12, Chandigarh Email Id: anand.rajneesh@pgimer.edu.in Contact No. 7087003322

3.

AIIMS, Jammu

AIIMS, Rishikesh
Candidates are advised to contact the allotted college/ AIIMS, DELHI 011- 26588500/ 26588700 regarding Reporting before booking of tickets.
All the NEET Counselling candidates are requested to check out the below mentioned instructions:
 All Candidates are requested to verify the Fee Structure/ Bond Conditions/ Eligibility etc. on MCC website and confirm the same with college websites before opting for choices. MCC will not be responsible for claims of candidate of choosing wrong college afterwards.
 The following colleges have higher fee inspite of being in All India Quota. Candidates should be aware of Fee before opting for these colleges.
Raja Muthaiah Medical College, Tamil Nadu
MG Institute of Medical Sciences, Sevagram, Wardha
 Candidates are requested to check the eligibility of NRI seats of JIPMER from the information bulletin of JIPMER or directly contact the college regarding the same. The mode of payment for NRI seats may also be confirmed from the college.
 Candidates are advised to do all activities relating to Registration & Choice Filling on system (laptop/ desktop) and not on mobile for the proper running of website.
 Candidates should be aware that MCC allots candidates on the basis of merit and choice and as per the data of eligible candidates received from NTA. There is no provision of nomination of candidates by MCC.
 The students and all the concerned Medical/Dental colleges of the country should beware of Fake Agents and Websites and may lodge FIR with Police Station immediately in case any such information/ complaint is received. It is further stated that MCC of DGHS maintains only one website for candidates i.e www.mcc.nic.in .