Dayanand Medical College Holds Convocation, 32 MBBS doctors awarded degrees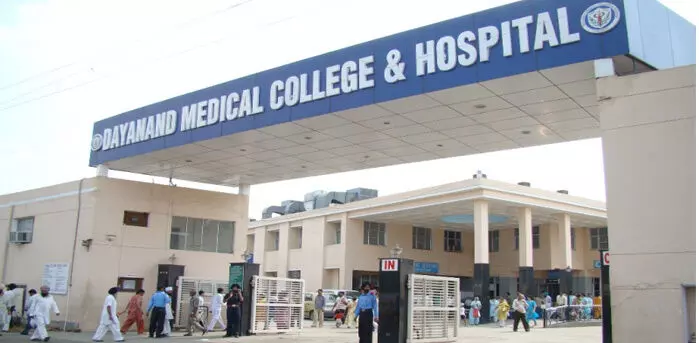 Ludhiana: The Dayanand Medical College Hospital conducted its annual convocation ceremony on August 7th 2021 for MBBS batch 2015 and facilitated 32 young graduates with their degrees. They also had a small function for 'Naman Gratitude for COVID Warriors,' as a way of saluting the frontline workers for their duty during the COVID-19 pandemic.
The Chief Guest for the occasion was Srimati Vini Mahajan, the Chief Secretary of Punjab. Sunil Kant Munjal, president, and Prem Kumar Gupta, secretary of DMCH Managing Society, Ludhiana Deputy Commissioner Varinder Sharma and Police Commissioner Rakesh Agrawal were the guests of honour.
According to a recent report by Tribune, while the 32 graduates received their degrees, a silver medal was awarded to Dr. Dhruvika Tiwari and the gold medal was awarded to Dr. Sanchi Baghla, who also won the Best All-Rounder Award.

Principal Dr Sandeep Puri read out the college report, stating various activities held in the college for the past one year and academic publications contributed by faculty members.
Dr Sandeep Kaushal administered the Hippocratic Oath to the young doctors.
The Chief Guest, Srimati Vini Mahajan motivated the students to go beyond their academic pursuits and keep their vision open to observe things around them. She advised them to be extremely humble and sincere to their parents. She also shared that 10 pressure swing adsorption (PSA) oxygen generating plants and paediatric intensive care units (PICU) had come up in Ludhiana. She had recently launched a software to collect data for surveillance of possible third Covid wave in the district.
Dr Bishav Mohan, Medical Superintendent of Hero DMC Heart Institute, spoke of the contribution of DMCH in the battle against COVID-19. In his speech, he said the recent times were very difficult for the society and it was due to the joint efforts of healthcare workers of various departments that the crucial situation was tackled.
Source : with inputs