MP Gao urges Govt to consider lowering FMGE cut-off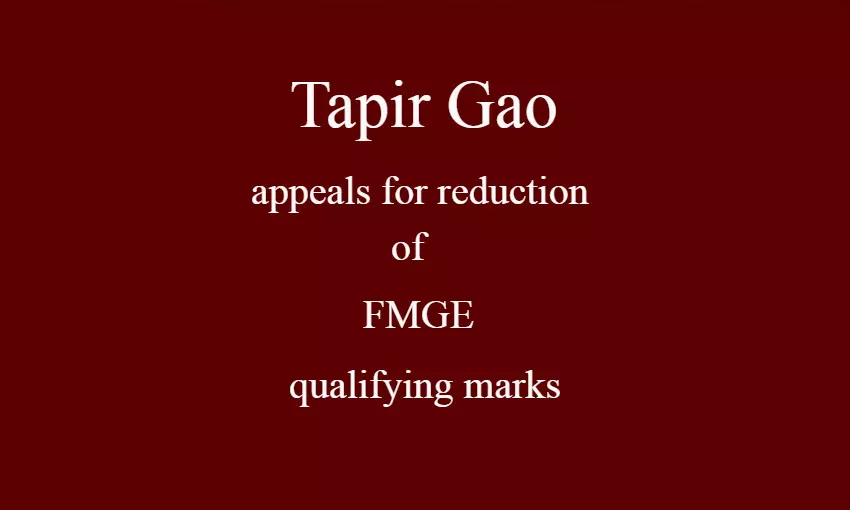 New Delhi: Expressing concern over the grave situation led by the Coronavirus Pandemic, the Parliament member Tapir Gao has appealed before the Government to lower the cut-off marks of Foreign Medical Graduate Examination (FMGE) so that the medicos holding foreign degrees could serve the country.

"Our country has lost its best doctors during the Corona Pandemic. Taking note of the situation, erstwhile MCI (Medical Council of India) in 2019 had lowered the NEET qualifying marks from the existing 50 percent to 30 percent for the MBBS postgraduates (PG) and 21 percent for the dentists," stated Gao during the Parliamentary session.

He further added, "Presently, there are more than 45,000 foreign MBBS graduates in the country. Such students have graduated from foreign institutions recognized by both the Medical Council of India (MCI) and the World Health Organization (WHO)."
Mentioning that the country is in dire need of medical staff and doctors, Gao requested the Government, the Health Minister, and MCI to reduce the qualifying marks at the FMGE examination.
Gao ended his speech by appealing before the Government that "The foreign graduate students should also be given such an opportunity by lowering the qualifying marks like that of NEET, so that these students can serve the nation, the society, and especially the rural areas of the country."
However, the demand for a reduction in the qualifying marks for FMGE is not new at all. Medical Dialogues had earlier reported that raising the same issue, members of Parliament had written to the Union Health Minister, Dr. Harsh Vardhan on behalf of students.
Members including Subhash Chandra Bahediya, Shravan Singh Rao, Darshana Jardosh, DC Goswami, and former MP Anbumani Ramadoss had written to the health minister seeking the eligibility mark for Foreign Medical Graduates Examination (FMGE) to be reduced to 30%.
The request had come in the backdrop of the fact that the backlog of failed students was increasing every year and amid the ongoing COVID-19 pandemic there was a desperate need for doctors in the country.
Also Read: Delhi: Doctor holding foreign MBBS degree plants proxy doctor to clear FMGE 2020, arrested
Source : with inputs