NEET Results OUT: Check out the 10 toppers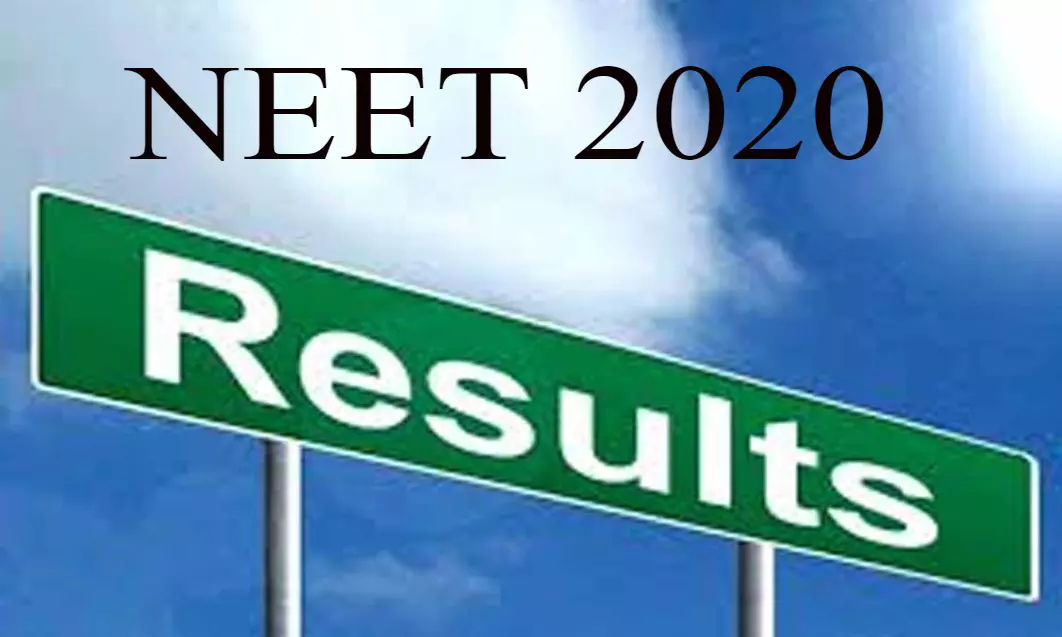 New Delhi: The National Testing Agency (NTA) has released the results of the prestigious National Eligibility cum Entrance Test, NEET 2020. NEET is the gateway to MBBS and BDS admissions in the country. The students who intend to pursue MBBS and BDS in India need to qualify the mandatory test.
The result of the NEET 2020 was announced on Friday night with over 7.7 lakh candidates qualifying the exam.
Below is the list of 10 toppers:
Shoyeb Aftab from Odisha has secured All India Rank (AIR) 1 and Akanksha Singh bagged AIR 2 with full marks in NEET 2020.
The NEET 2020 topper, 18-year-old Shoyeb created a record by securing 100 per cent marks and is also the first student from the state of Odisha to top NEET.
According to a recent report by India Today, he had taken coaching from an institute in Kota, Rajasthan. The coaching institute also tweeted pictures of Shoyeb ahead of the result declaration as the student had already worked out that he may score full marks, based on the answer key that was released in the public domain earlier.

Akanksha Singh from Kushinagar has secured 720 marks out of 720 and secured AIR 2 in NEET 2020 exam. She became the female topper but was ranked 2 in AIR because of the tiebreaker policy as both the students have scored a perfect tonne. She lost the top rank to Odisha''s Soyeb Aftab due to her younger age which is one of the factors accounted in the National Testing Agency''s tie-breaking policy.
Akansha Singh's journey to success is inspiration for many girls from Purvanchal by becoming the first girl from rural Purvanchal to crack the medical entrance exam. Her zeal to become a doctor made her journey 70 kms from her village in Kushinagar to Gorakhpur, where she enrolled in Aakash Institute during her Class 9 and 10 and then from Delhi branch in Classes 11 and 12.
Daughter of an ex-sergent of the Indian Air Force, Akansha is AIR 2, NEET topper among girls and also the state topper from Uttar Pradesh, reports Times Now
Tummala Snikitha secured All India Rank 3. Snikitha, who scored 715 out of 720 marks, also achieved all India second rank among girls. "The credit goes to my parents. For preparation, I first understood the concepts and then analysed my progress with regular tests. But dedication and hard work also played crucial roles. My parents helped me throughout the lockdown when I was not attending the classes," she said while talking to TNIE.
Vineet Sharma (AIR 4) from Rajasthan and Amrisha Khaitan (AIR 5) from Haryana, Guthi Chaitanya Sindhu AIR 6 from Andhra Pradesh have also scored 715 marks in NEET results 2020. Satvik Godara from Haryana got AIR 7 with 711 marks. Srijan R from Tamil Nadu, Karthik Reddy from Karnataka, Matravadia Mannit from Gujarat secured AIR 8, 9 and 10 respectively, reports CareerIndia.
Guthi Chaitanya Sindhu, from Guntur district, was the only one from the State to secure a place in the top 10. She secured All India Rank (AIR) 6, with a score of 715 out of 720 (99.99 percentile).
"I was confident of scoring good marks. Right from school, I wanted to become a doctor. Both my parents are doctors and they were my biggest inspiration. Their encouragement and my teachers' support helped me score good marks. I want to get admitted to AIIMS, Delhi and pursue MBBS. I want to major in a field related to deficiency, and will decide based on the most widespread deficiency when I complete MBBS. I think research on deficiencies is important for India. Once that is tackled, several major ailments can be taken care of," Sindhu told TNIE.
19-year-old R Srijan from Vellakovil in Tirupur spent a whole year preparing for the entrance exam at a private coaching centre in Namakkal. Today, he is best-placed qualifier from Tamil Nadu, securing 8th rank at the national level. This was his second attempt at NEET. He had appeared for the MBBS entrance last year as well. "For the last one year, I have spent 12 hours every day preparing for the NEET exam. I followed predominantly NCERT books for my lessons. This shows that anything is possible with hard work," Srijan told TNIE. Srijan plans to join MBBS at JIPMER in Puducherry and in future he wants to become a cardiologist.
Bidar boy Karthik Reddy is Karnataka's NEET topper this year scoring 710 out of 720 and a percentile of 99.99. His AIR (all India ranking) is the fifth-highest among male toppers in the country. "I started preparing for NEET from class 11," he said also adding that he looks forward to pursuing medical studies at AIIMS Delhi. Karthik, who likes to play cricket, said that he used time during Covid lockdown to prepare for the exam.
"Lockdown was a boon to me. Many students did not use the period effectively," he said, adding that he attended mock tests regularly and practiced over 100 test papers that helped him during the real exam," he told TNIE
The exam was conducted on September 13 amid strict precautions in view of the COVID-19 pandemic.

From this year, the admissions to MBBS course in 13 All India Institute of Medical Sciences, Jawaharlal Institute of Postgraduate Medical Education and Research, Puducherry, will also be made through NEET following the amendment in National Medical Commission Act, 2019, passed by Parliament last year.
The test was offered in 11 languages -- English, Hindi, Assamese, Bengali, Gujarati, Kannada, Marathi, Odia, Tamil, Telugu and Urdu -- this year. Based on the initial report, more than 77 per cent aspirants took the test in English, around 12 per cent in Hindi and 11 per cent in other languages.
The exam was earlier postponed twice due to the COVID-19 pandemic and the government decided to go ahead with it, despite opposition by a section, to mitigate any further academic loss.
To view the results, click on the link below:
http://ntaresults.nic.in/neet20/result/resultneet.htm
Source : with inputs